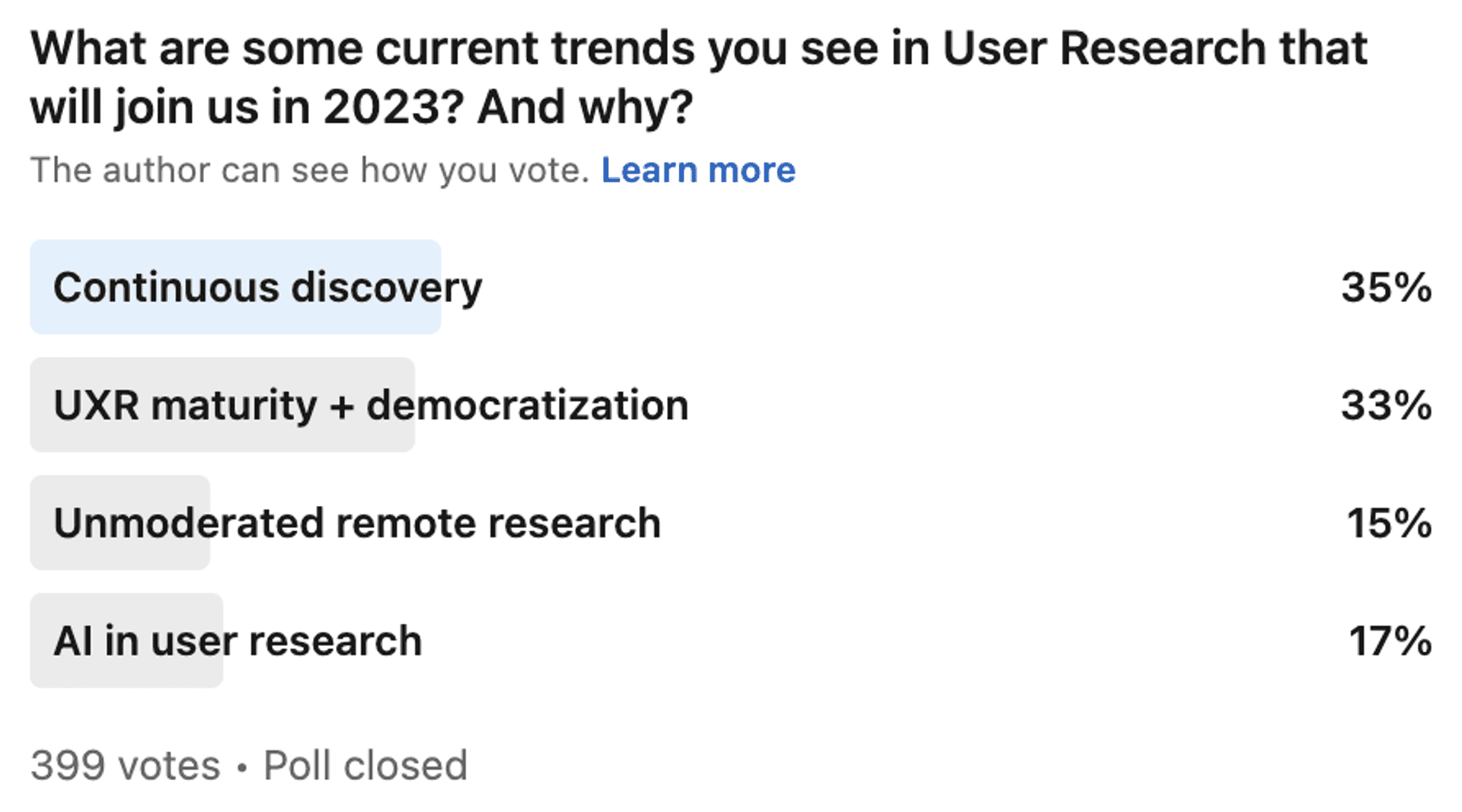 Hang on to your hats, 2023 is here. And just as the tech world is navigating a roller coaster of changes, so are UX researchers. From the reality of AI that actually seems to make sense to shrinking resources, what will actually make the headlines this year?
We wish our AI had a crystal ball, but since it doesn't, let's do what we all do best. Listen to the users.
Founder of User Research Academy, Nikki Anderson-Stanier, recently posted on LinkedIn, asking what people anticipate to be the biggest UX research trends in 2023. Continuous discovery and user research maturity/democratization rose to the top, both receiving nearly 1 in 3 votes, while AI and unmoderated remote research came in third and fourth place, respectively.
Democratization is still a hot button topic, and although there is some correlation with democratization and company maturity, as comments showed, the connection between the two is still up for debate. However, some commenters feel that democratization can help to promote continuous discovery: but more on that later. Meanwhile, unmoderated remote research and AI can also enable more continuous discovery and help a research program become more efficient.
In this blog post, we'll look at why these 4 trends matter now and how they can lead to increased user empathy and user-centric product decisions, including how:
Continuous discovery lets you understand how the user is responding to product updates and features and focuses on real-time feedback

Democratization can enable teams across the organization to access meaningful research and center every decision they make around the user experience

Unmoderated research gives you access to more users in more locations, and also drives efficiency

AI can be a great starting point for theming, giving researchers more time to dig in and evaluate insights at scale
UX Research Trend #1: Continuous Discovery
35% of poll participants said continuous discovery will be the top trend of 2023. That means 1 in 3 respondents recognizes that ad-hoc research or one-off studies are not enough to generate the right insights and build successful products.
What is Continuous Discovery?
Continuous discovery is ongoing research that lets you understand how the user is responding to product updates and features in real time. It recognizes that research isn't a one and done process — it's a cycle conducted from day one through launch and then over again as new features and functionality are released. Continuous discovery provides understanding around existing problems that may not already be on the radar and helps teams make decisions faster, with more confidence.
Continuous discovery can look different depending on your company and research practices, though typically it falls into one of two categories:
Ongoing user interviews: This involves continuously tracking user experience through moderated research, inviting users in small groups to share their thoughts via standing user interviews every week. Teresa Torres has popularized this method, with both researchers and product managers leveraging her best practices to ask the right questions and streamline the recruiting process. By setting up a simple recruiting process, conducting continuous interviews is easier than you might think.

Continuous in-product surveys: Another way to capture insights continuously is to use in-product surveys to ask the right questions of the right people at the right time. With these surveys, you can ask questions at critical (but not disruptive) points in the user journey. A blend of quantitative and qualitative, this method can serve to both quantify the sentiment of larger samples while also providing in-depth insights via open-text responses (see our section on AI to avoid manually reviewing those responses).
How will Continuous Discovery Look Different in 2023?
As the number one trend in Nikki's poll, it's no surprise that continuous discovery is gaining momentum— but it's not just user researchers that are behind this surge. Like we mentioned, product leaders like Teresa Torres and Marty Cagan have been touting its importance for years, and now everyone is getting on board with the role of continuous discovery in building successful products.
And with continuous discovery in the top spot of the poll, we will likely see more continuous interviewing and surveying, and more buy-in for both methods as leaders and executives learn about the importance of continuous discovery. At Sprig, we're seeing more and more teams of all sizes are starting to learn with continuous, in-product surveys. While smaller teams may have one survey live in their product experience, our larger customers are building out robust continuous measurement programs, often running 10-12 continuous surveys to measure CSAT (or DSAT) for each of their most important critical user journeys. And we're only seeing this trend continue as the resulting insights drive positive business results.
The more people across the organization who want to be involved in user-centric continuous research in 2023, the better. We always believe more research is positive. The insights are relevant across teams, whether they want to track customer satisfaction to gauge overall feedback or deepen understanding and focus on specific product areas you want to improve.
And this leads us to our next trend…democratization.

UX Research Trend #2: Research Democratization
Of all these trends, one seems to stir the strongest reactions. Democratization. It gets people talking — 66% of comments on Nikki's post addressed it.
What is Democratization in User Research?
Democratization is giving a broader cross-functional team outside of user research — product managers, designers, or even data analysts — access to launch, run, and/or analyze user research
In the poll, democratization and research maturity were lumped together, possibly because in some companies, democratization and maturity are correlated (e.g. smaller teams with one researcher may democratize certain parts of the research process in order to ensure more research gets done). The comments further demonstrate that sentiment.

Another net positive of democratization? Companies can use it to bring people across the organization into the research process to learn from customers, leveraging insights instead of gut instinct to prioritize the right problems. Democratization can mean more people are thinking about how research matters, listening and applying those insights, thereby reducing rework.
And if some research can be delegated to product and design, that can give the research team the runway they need to pursue the strategic projects they see as most valuable. However, that doesn't mean democratization is right for everyone. In some cases, a researcher may want closer control over the research that is conducted, particularly if it's more sophisticated or advanced, or if an organization is larger, with a healthy ratio of researchers to product builders.
What Will Democratization Look Like in 2023?
Ranked second in the poll, and nearly tied with continuous discovery, it looks like democratization will continue to be a trend in 2023. And that's not a surprise, given the recent economic changes and a macro-economic landscape that continues to be rocky across tech and the economy at large.
In Sprig's most recent survey, 43% of research teams have been asked to justify resources but despite that, 28% of teams are expected to do more research. One way to ensure more research gets done in this environment is to democratize.
But that doesn't mean democratization will always be the answer for every team or company. As always, democratization is highly personal and may not be right for everyone. For those on the fence about doing it, the right tooling and templates can help teams follow a consistent process infused with best practices.

UX Research Trend #3: AI in User Research
AI is everywhere right now. You can't escape it. From AI photos to GPT-3, everyone's talking about it. Like it or not, AI is going to fundamentally change how people do business, and nearly 20% of user researchers in Nikki's poll think it's something to pay attention to.
What is AI in UX Research?
The most common use case for AI in user research is theming to enable teams to analyze large datasets. Used as a starting point, it gives a researcher the ability to look at more data, then choose where they want to go deeper.
But don't fear: we don't think AI is coming for your job. There's definitely hesitation that AI is another way of saying anyone can do this with the right machine learning. But we believe it's actually giving you the ability to do your job more efficiently, analyze insights at scale, and pick up on themes that you might have missed when combing through data manually.
What Will AI in UX Research Look Like in 2023?
While AI is not a top trend, improved technological advances and more experience with AI-based tools is driving interest in it. We know researchers want more say in analysis and how it's conducted, and AI isn't going to do away with that.
At Sprig, our AI is actually trained by real-life user researchers who annotate our AI model to train it. And that's just the beginning. Once the model starts reviewing your own company's data, it starts to learn nuances based on your specific business and customer base.
There are nuances and methods of putting together findings that machine learning can't replicate. But AI is getting more sophisticated and it can give you a head start, allowing you to focus on the results that are most meaningful and prioritize high-impact work. Researchers will leverage AI, but as a starting point. For example, it could be used for initial theming, then a researcher could take a sample size of 100 to verify and validate.

UX Research Trend #4: Unmoderated Research
Receiving 15% of the vote, unmoderated research is maybe less sparkly when you're looking at trends, but it's going to become more critical as researchers try to do more with less.
What is Unmoderated Research?
Unmoderated research is when researchers set up research studies for participants to complete independently, typically for concept and usability testing. Because this method uses less time and fewer resources, teams can generate insights from larger samples and enable more answers to specific questions, at scale.
Unmoderated research is efficient, but as UX researcher Joshua Han mentioned, it can be difficult to get started because of recruitment issues. Additionally, researchers can't ask follow-up questions like they would in a moderated session. But given the method's constraints, unmoderated studies can be a net positive for researchers if used in the right way–to fill gaps when moderated research isn't possible, collect more data with larger samples to de-risk design decisions, and enable product managers and designers to get involved in the research process without the inherent bias that might come along with a moderated session.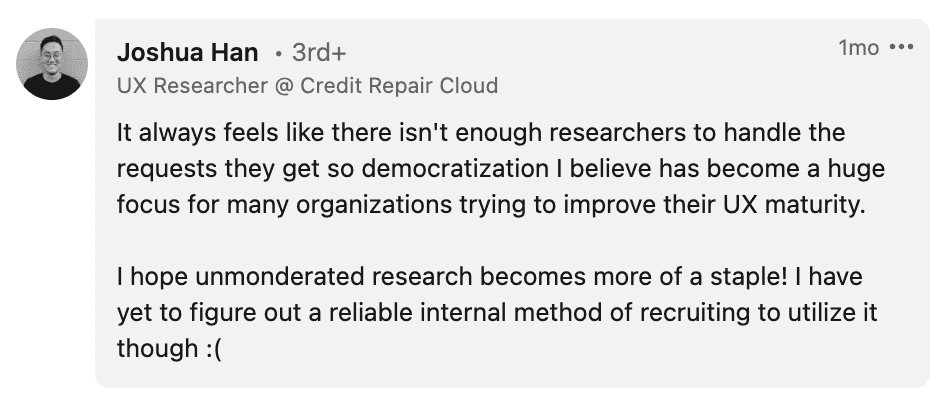 What's another way to bypass recruiting issues with unmoderated research? Leverage in-product surveys. While not traditionally thought of as unmoderated studies, these surveys are taken independently by your users right within the product experience, so open-ended questions can elicit similar responses to what you might hear or receive in a user interview or an unmoderated test.
By targeting a specific subset of users based on their characteristics (e.g. user is on a free plan) or actions (e.g. completed a hotel booking in the last week), you can glean specific insights from a very large user base in a short period of time. This method especially comes in handy when you want to learn from your existing users about features you've recently launched, and can provide further validation and more confidence after you've launched.
What Will Unmoderated Research Look Like in 2023?
So what does 2023 bring for unmoderated research? While this topic comes in last in our poll (perhaps because it's had its day and been a top trend in previous years), there's still a big opportunity for folks to leverage it this year.
The market for unmoderated research tools has expanded, and there are dozens of options for remote research, from diary studies to concept and usability tests. And those who've traditionally had a hard time recruiting users will find it much easier in the coming year, with a variety of native integrations between tools (like Sprig and User Interviews), so you don't need to choose or make sacrifices.

Outlook for UX Research in 2023
There's one common thread throughout all of these trends — they all give more people more access to the user. And that's a good thing. In 2023, continuous research will remain critical for distilling insights throughout the organization, but AI, unmoderated research, and democratization will allow them to be more efficient, more impactful, and hear from more users. More users. More research. 2023 is looking up to us.