Learn from users in real time with in-product surveys
Capture valuable in-context insights, reduce time to insight, and make your research go further.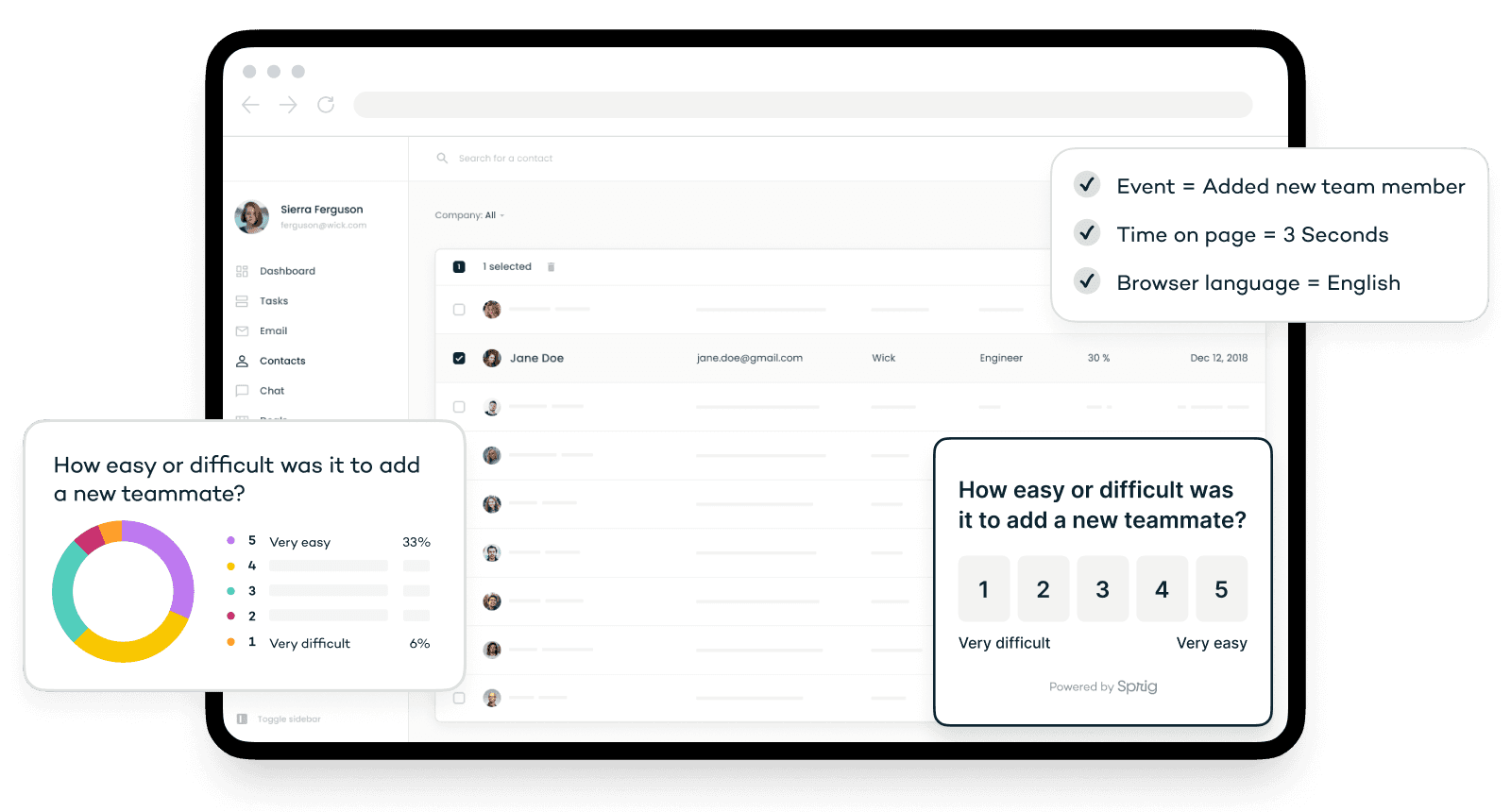 In-product surveys fuel powerful targeting and analysis
Target specific users based on actions they take in your product
Sprig lets you target nearly any user for surveys, without asking engineering for help each time. You get more relevant insights, less frustration, and more data at your fingertips.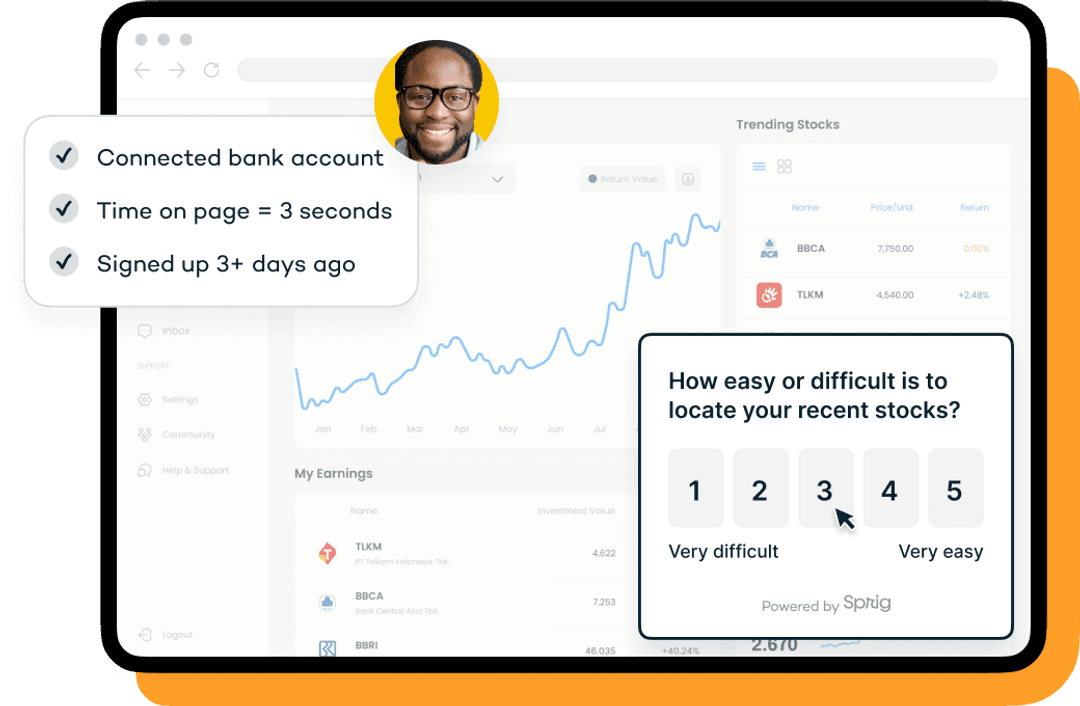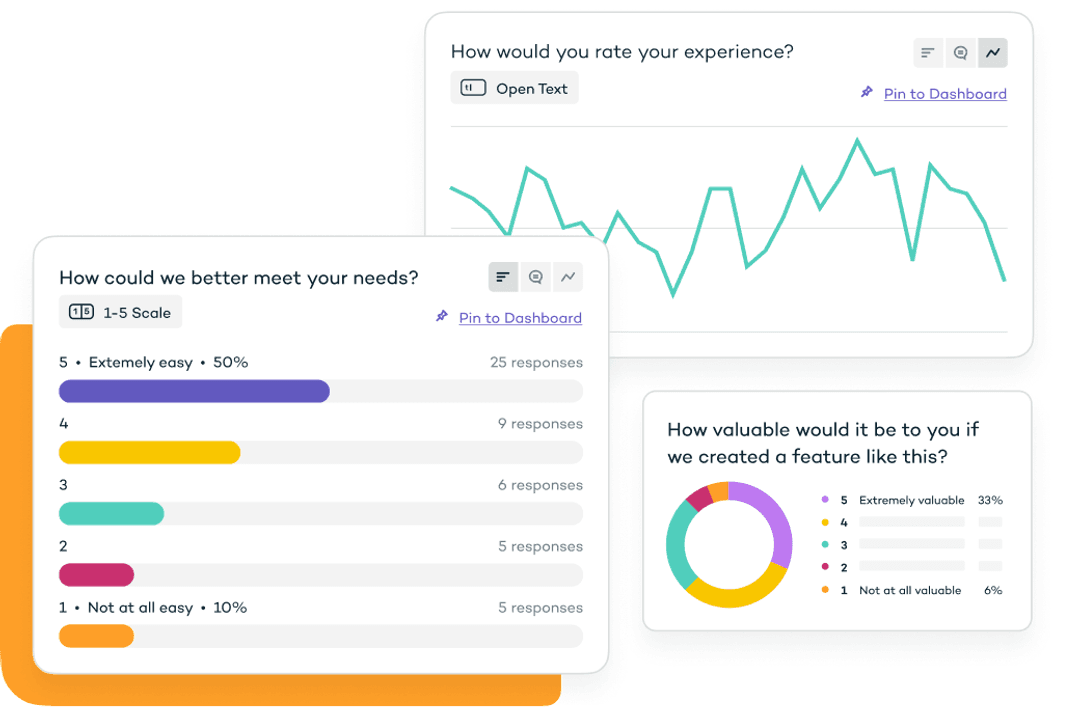 Go from question to insight in a few hours
An executive has an important question that needs answering ASAP? Or a high-priority project can't proceed without research? With Sprig, ask a question in the morning and have results flowing in the same day.
Save time with smart analysis of open-text responses
Instead of spending hours reviewing and coding responses, Sprig's award-winning AI with a human-in-the-loop groups your open text, voice, and video responses into themes so you can review or dig deeper quickly.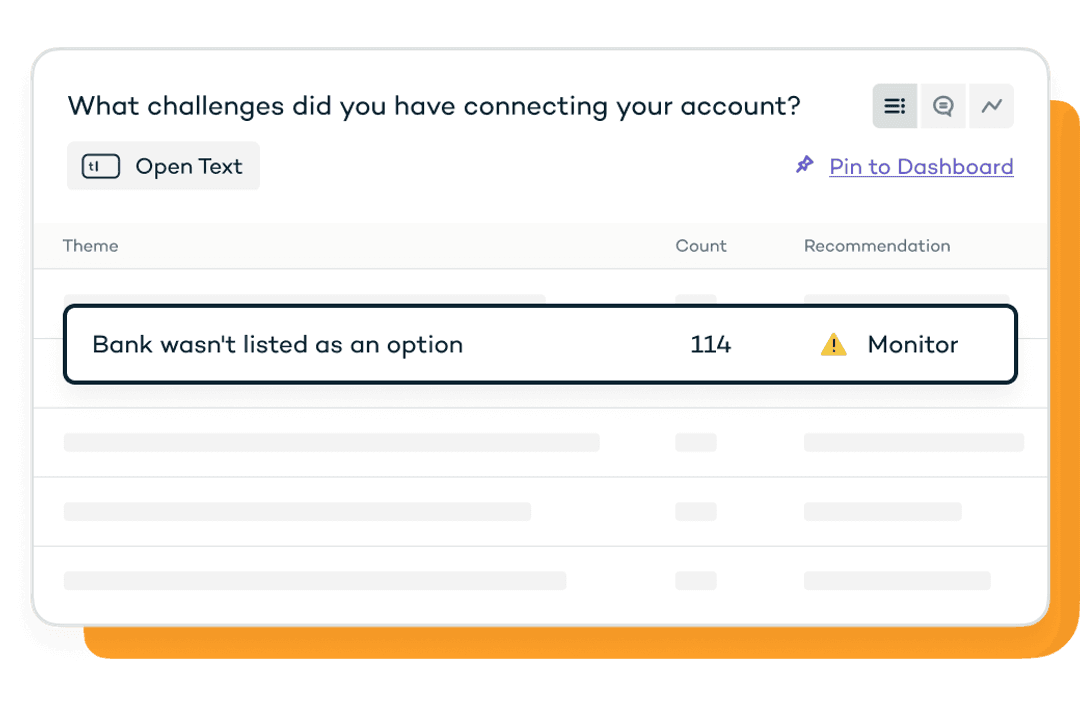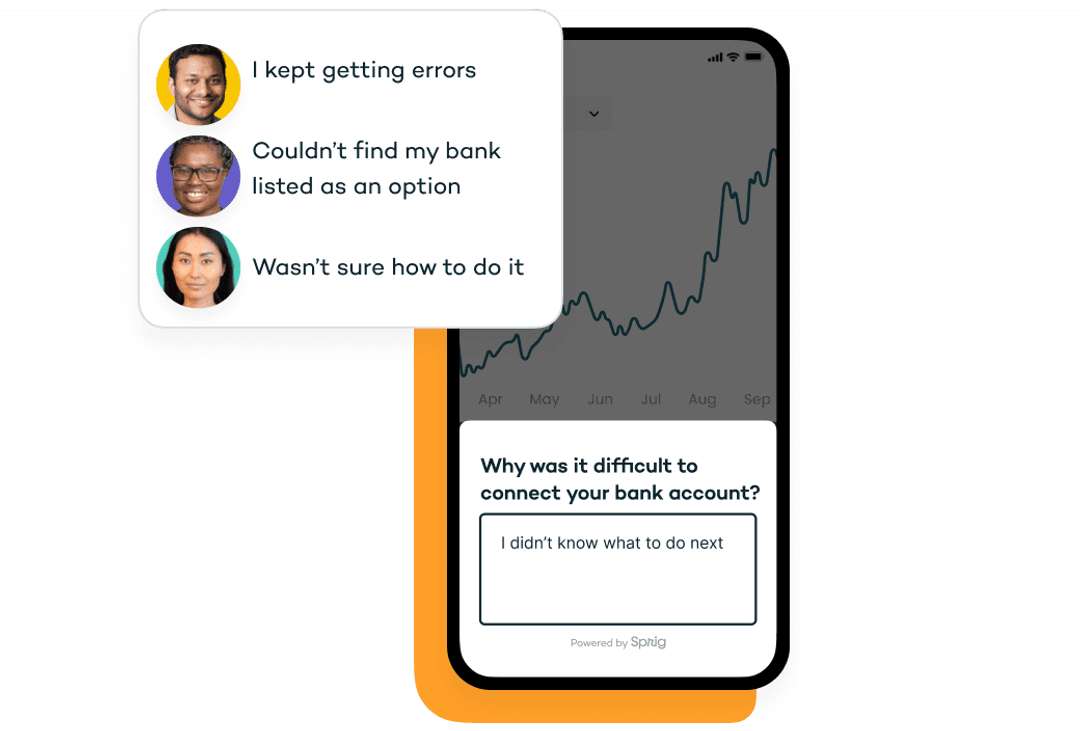 Understand the user experience as it's happening
Sprig makes it easy to understand what users are thinking and feeling while using your product, reducing recall bias, and giving you insights you can trust.
Customize surveys to match the look and feel of your product
Use the Sprig editor or customize with CSS, and no one will ever know you're using a partner to power your in-product surveys.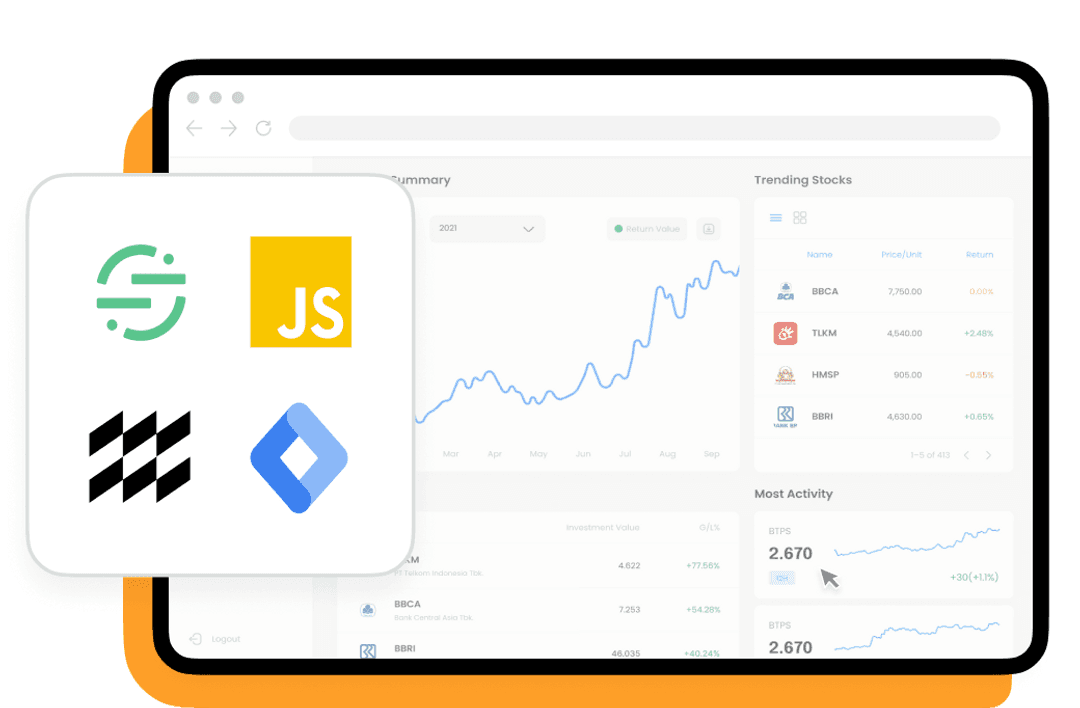 Easily embed Sprig into your application with a one-time integration
Sprig's flexible integration options mean you can be up and running quickly, no matter your tech stack. Get started with no code options like Google Tag Manager and Segment or use the lightweight Sprig SDK.

How Sprig powers world-class experiences for leading digital products
Square uncovers friction in the onboarding flow by learning from users in real time

Sprig helped Square generate over 100 actionable insights across 5 product areas in its first 6 months.

Shift revamps the car browsing experience after learning from active buyers

Sprig helped Shift collect over 13K responses within 6 months, compared to the same number in 2 years with SurveyMonkey. Plus, all responses were from the correct, qualified user base.

Chipper Cash uncovers barriers to adoption for a new feature within days

Sprig helped the popular African FinTech app Chipper Cash identify lack of user knowledge as a key barrier to adoption, which fueled investment in awareness-focused marketing and the launch of a new education initiative.
Do it all without disrupting or annoying users
Capture high impact insights after users complete an action or flow

Sprig maximizes recall without disrupting users during critical tasks or flow. You'll get highly reliable insights since you're presenting questions in-product, during natural product usage.
Keep a constant pulse on your users' experience
Insights from your Sprig studies are displayed in a customizable reporting dashboard. Review themes that emerge through AI analysis, share with colleagues, or export response data for further analysis.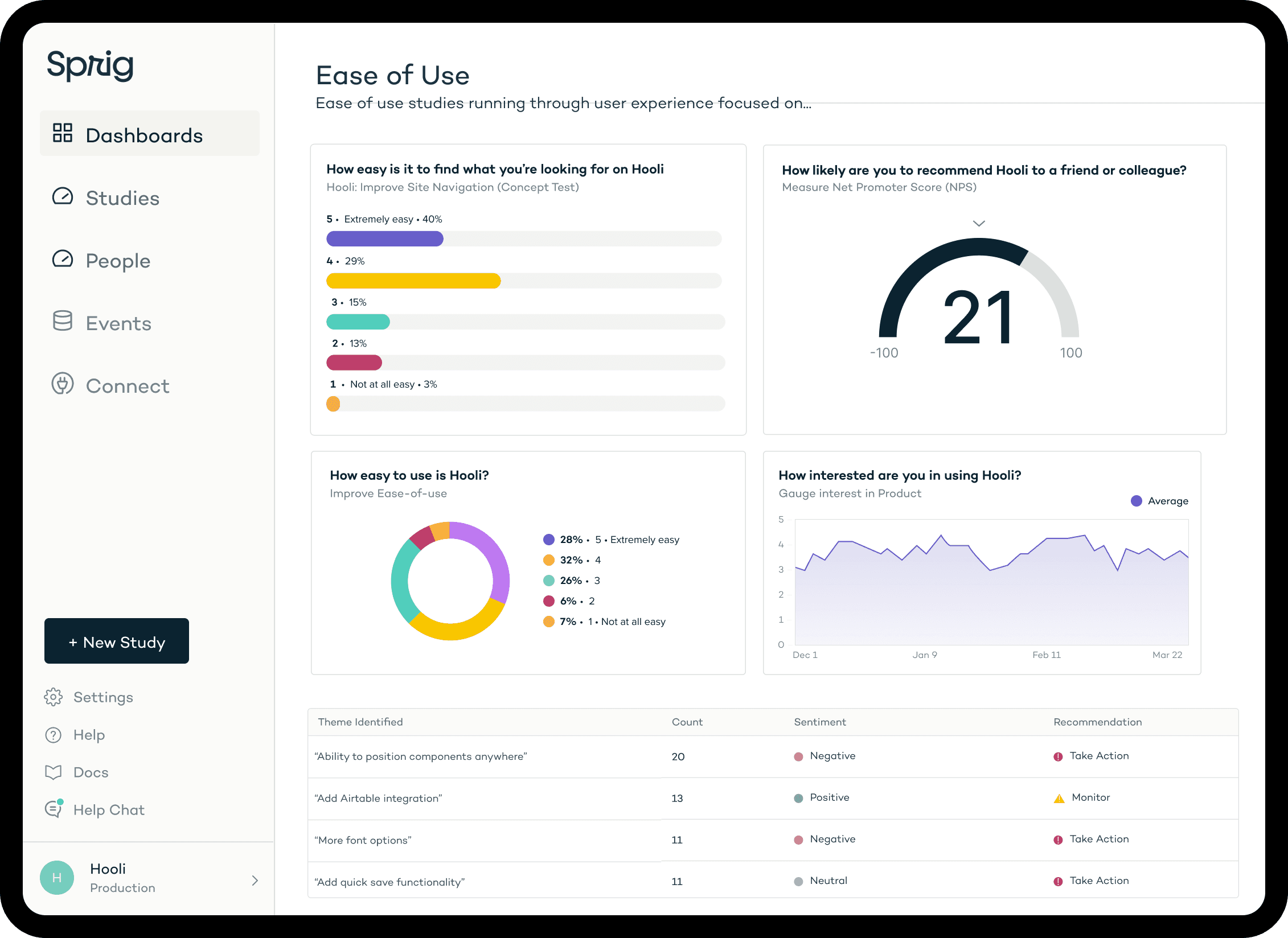 How Sprig helps user research, product, and design teams
Create a research-driven culture by providing context-rich user insights at scale.

Sprig helps you get from question to insight in a few hours, so you can fulfill every request, fuel every product decision with research, and spend more time on the work you love.

Research as fast as you ship to fuel every product decision with valuable user insights.

You know that research is valuable, but you don't always have time to wait. Sprig produces bite-sized insights when you need them to answer the "why" behind user behavior.

Sprig helps you create user-centered designs by obtaining real-time insights from your users.

Sprig empowers design teams to research quickly and reliably without a research background. Use pre-built and customizable templates to start collecting insights in just a few minutes.