In-context surveys & scaled qualitative research
Learn from users in real time with in-the-moment surveys
Easily survey users in-product for hyper-relevant insights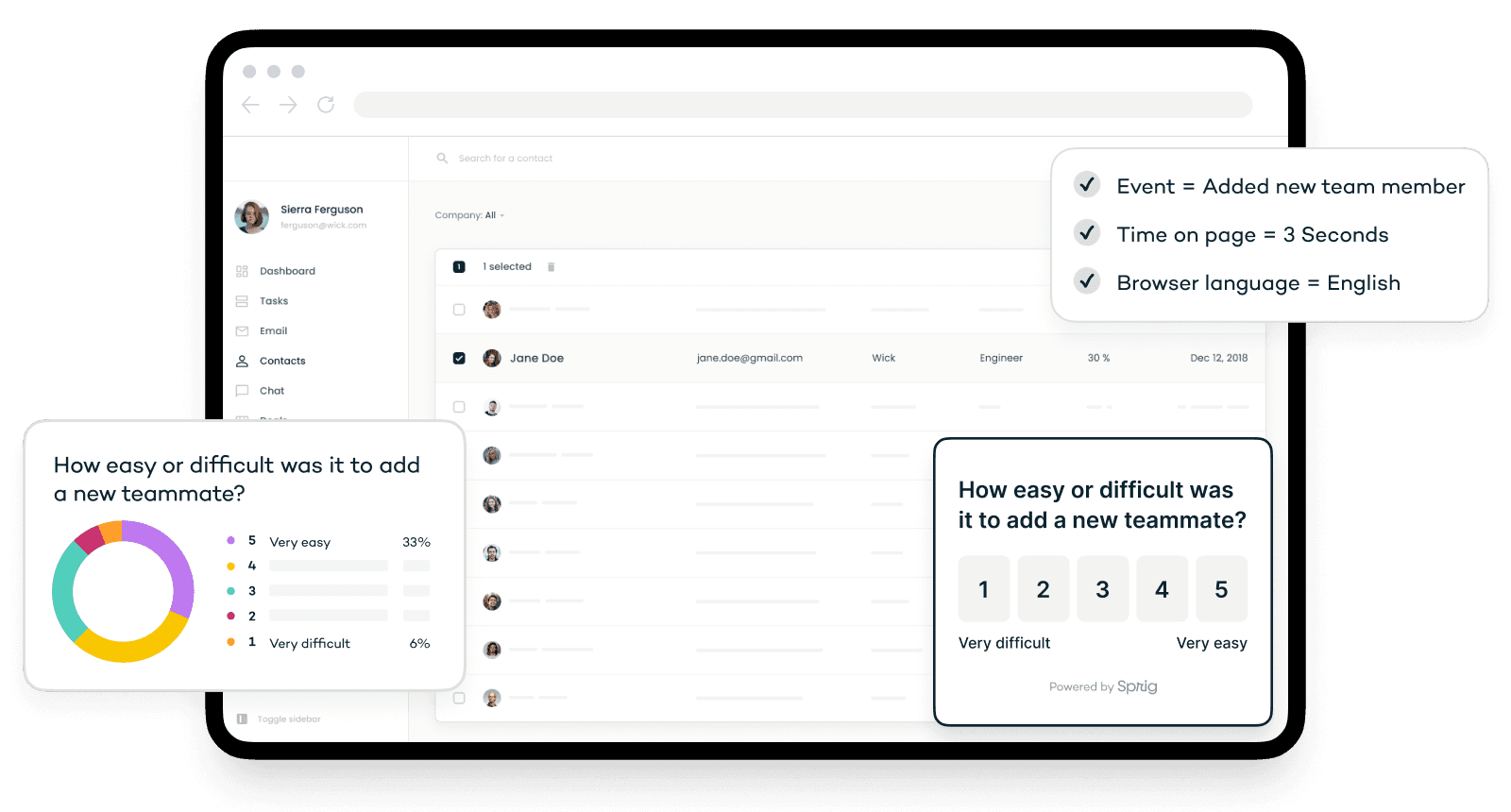 In-context surveys unlock real-time insights you can't get anywhere else
Don't miss critical (and hard-to-access) insights
With Sprig, a few lines of code power targeted surveys, in-product or out. You'll gather valuable insights you can't get with other methods, reduce time to insight, and make your research go further.
A simple install fuels powerful targeting and analysis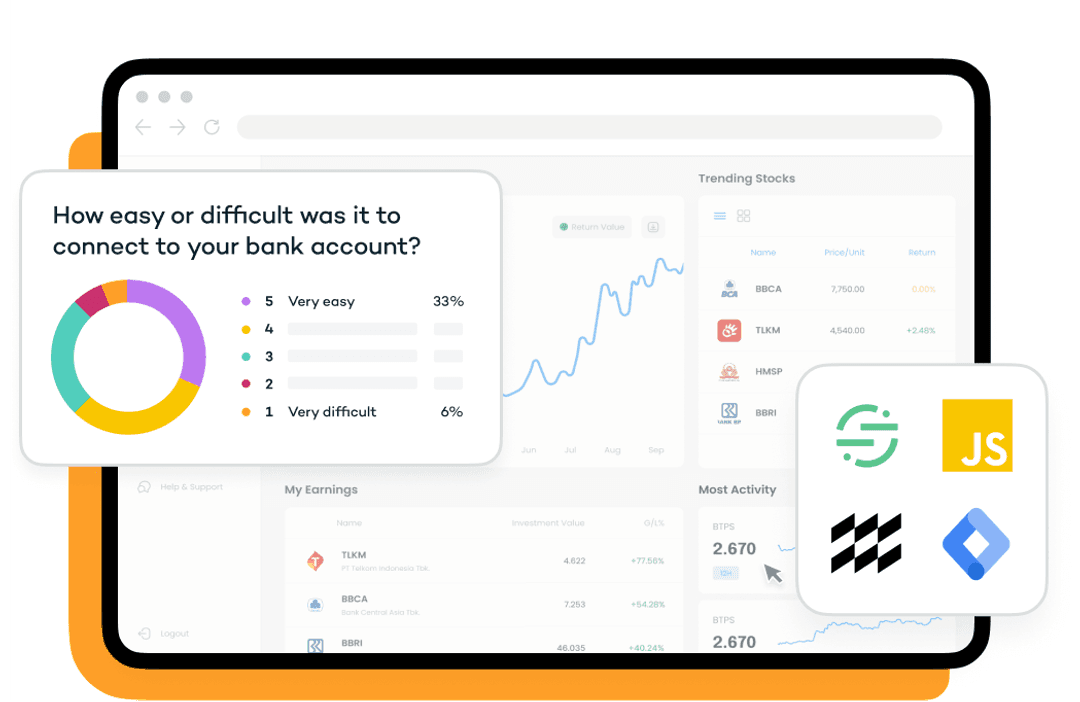 Easy to use from install to insight
Sprig's set-up and admin experience is simple and intuitive, while still providing the features and functionality you'd expect from an Enterprise research platform.
Advanced targeting fuels hyper-relevant feedback
Sprig's event-based technology lets you target nearly any user for surveys, without asking engineering for help each time. You get more relevant insights, less frustration, and more data at your fingertips.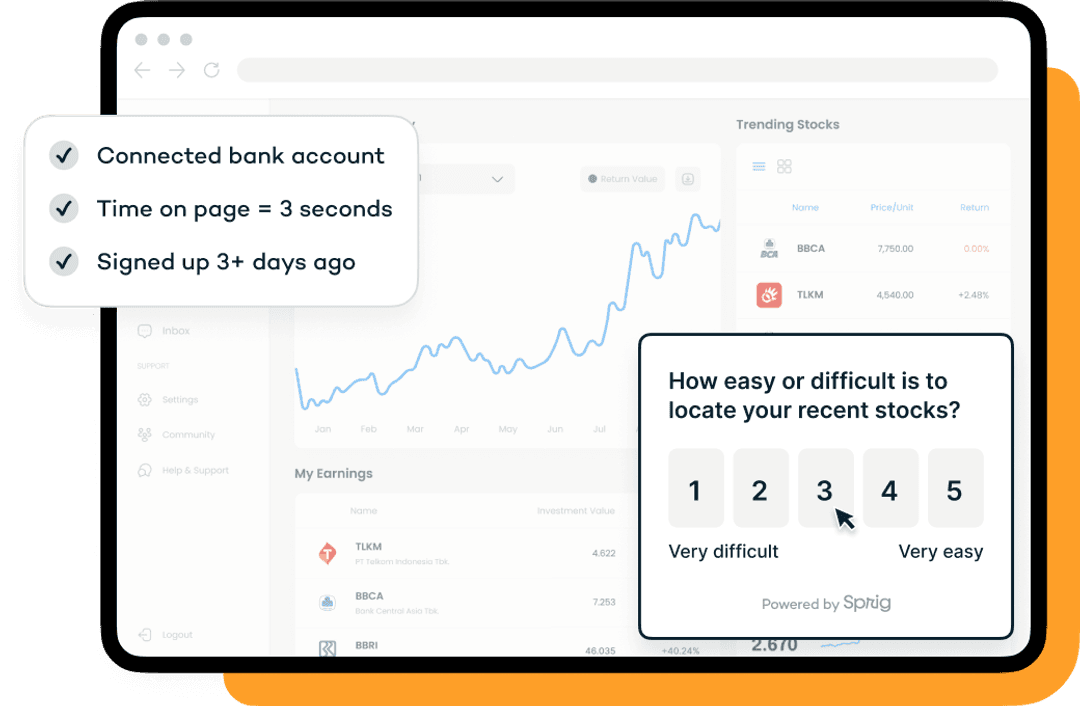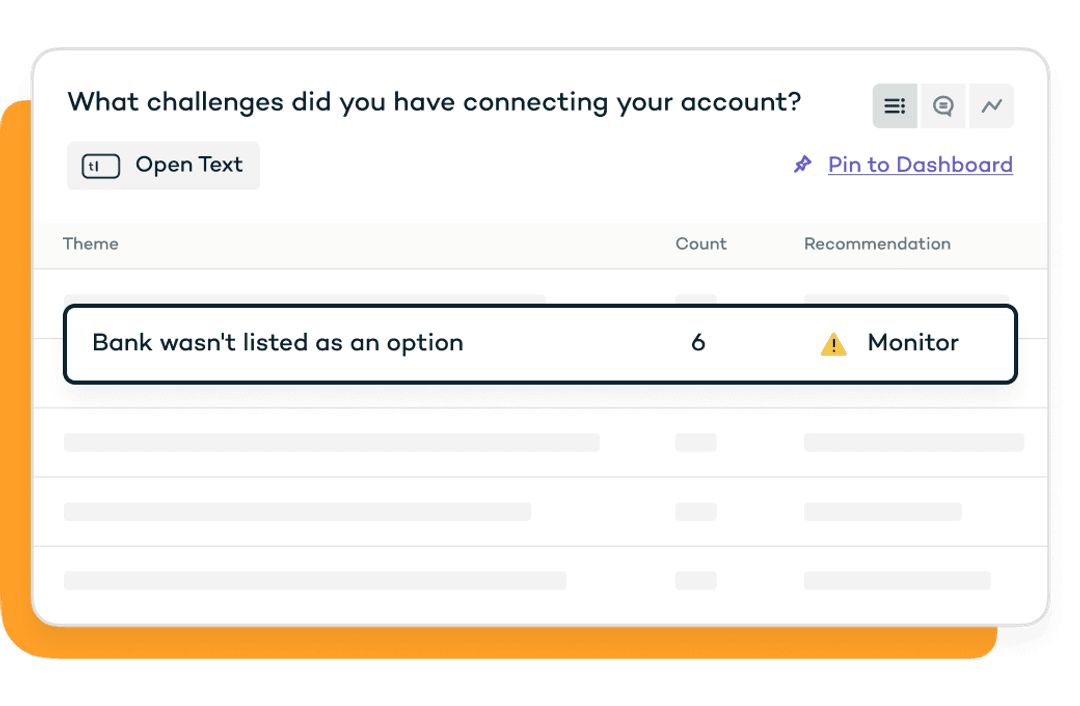 Analysis done for you
Instead of spending hours reviewing and coding responses, Sprig's award-winning AI with a human in the loop groups your open-text, voice, and video responses into themes so you can review or dig deeper quickly.
Built for teams to use together
Sprig is built for designers, researchers, and product managers to use together. Say goodbye to shared licenses and personal accounts and start centralizing insights for better collaboration.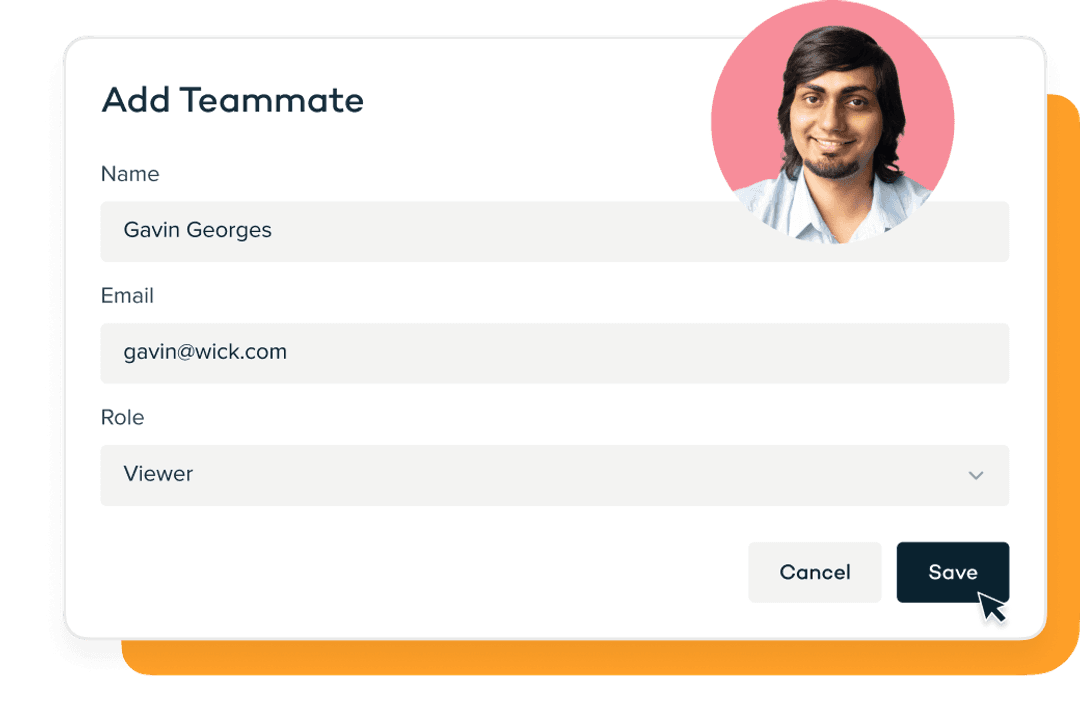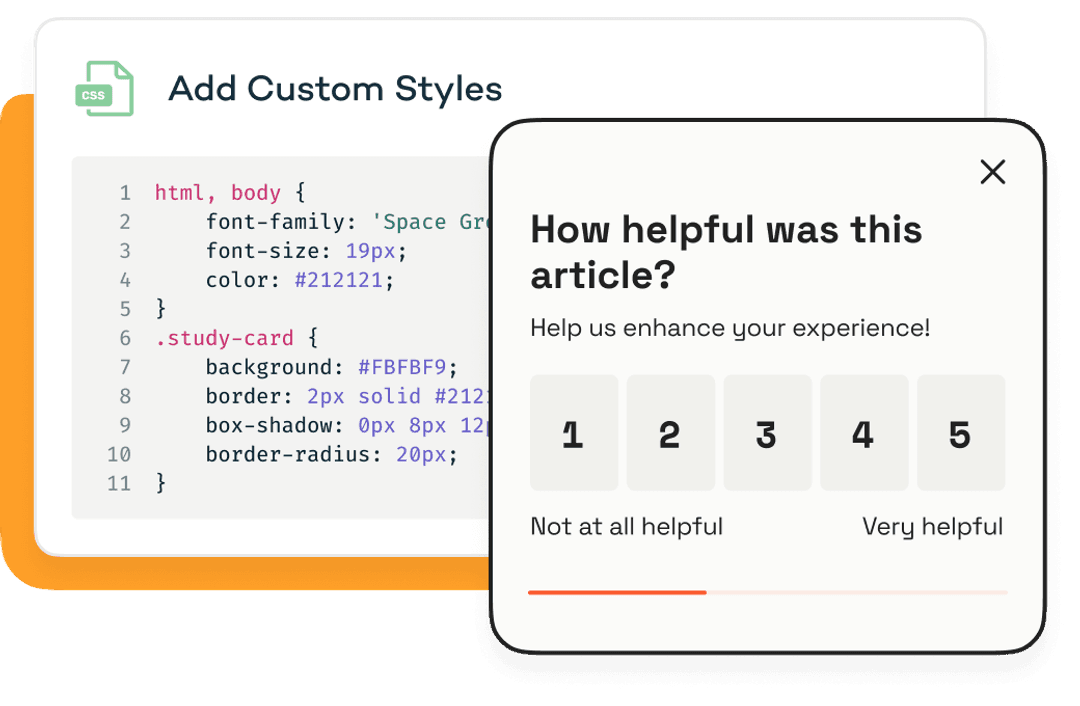 Stay on brand
Use the Sprig editor or customize with CSS and no one will ever know you're using a partner to power your in-product surveys.
Do it all without disrupting or annoying users
Capture high impact insights after users complete an action or flow

Sprig maximizes recall without disrupting users during critical tasks or flow. You'll get highly reliable insights since you're presenting questions in-context, during natural product usage.
Sprig has been extremely useful in helping our research team provide highly relevant, in-the-moment insights to our product and marketing teams.

Jewel Seperson

Head of User Research at Square

Sprig helps us collect insights easier, faster, and more accurately than any other tool on the market, which allows us to build a better product for our users.


Daniel Layfield

Growth Product Manager at Codecademy

Our existing survey platform had so much noise and was disconnected from the product experience. With Sprig, every insight is relevant to what we're working on or should be working on.

Adam Johnston

Former Director of Product Management at Shift
How Sprig helps user research, product, and design teams
Create a research-driven culture by providing context-rich user insights at scale.

Sprig helps you get from question to insight in a few hours, so you can fulfill every request, fuel every product decision with research, and spend more time on the work you love.

Research as fast as you ship to fuel every product decision with valuable user insights.

You know that research is valuable, but you don't always have time to wait. Sprig produces bite-sized insights when you need them to answer the "why" behind user behavior.

Sprig helps you create user-centered designs by obtaining real-time insights from your users.

Sprig empowers design teams to research quickly and reliably without a research background. Use pre-built and customizable templates to start collecting insights in just a few minutes.
Keep a constant pulse on your users' experience
Insights from your Sprig studies are displayed in a customizable reporting dashboard. Review themes that emerge through AI analysis, share with colleagues, or export response data for further analysis.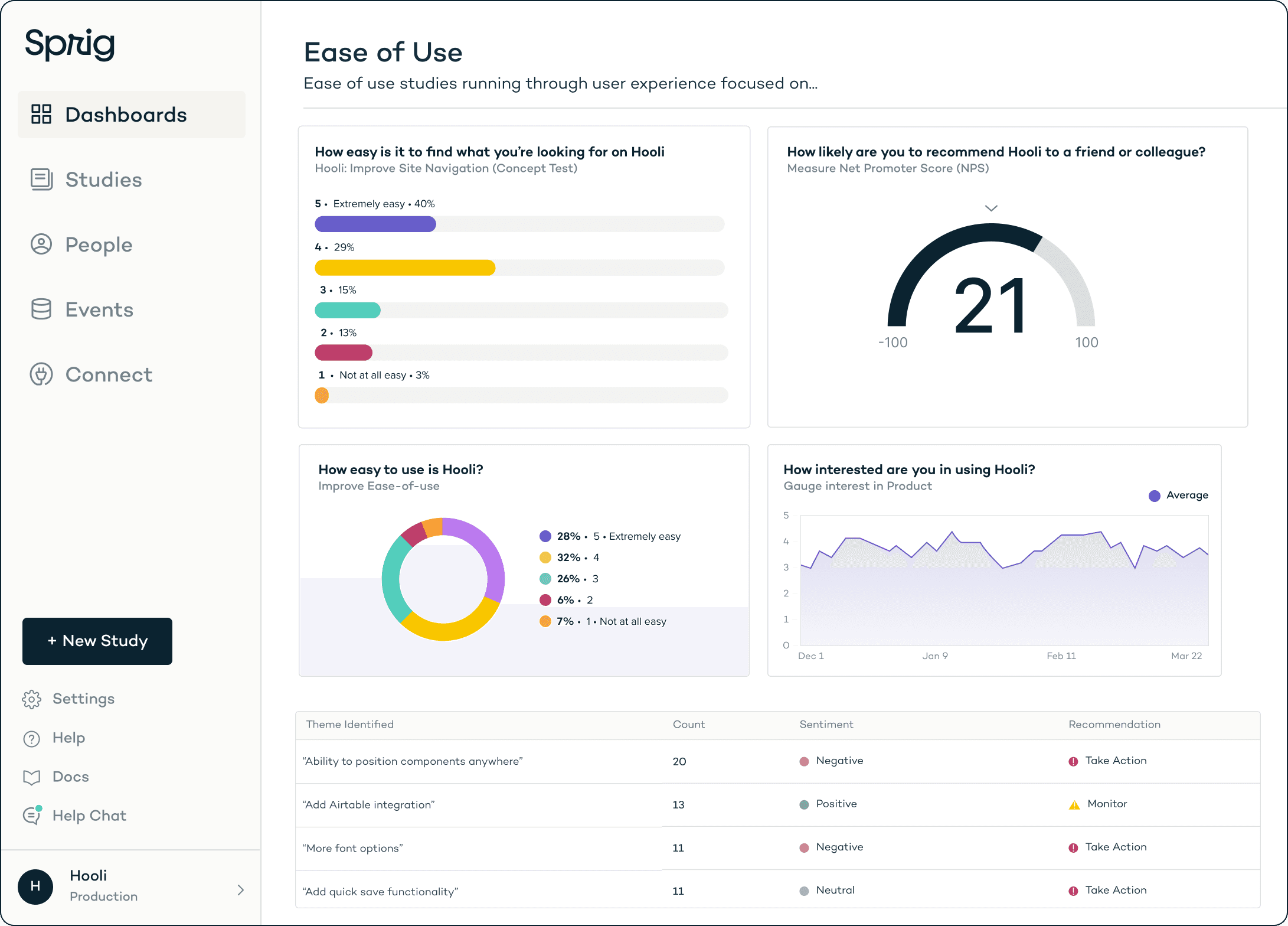 Fly through your security review process with Sprig
Your data is safe with us. We're SOC2 Type 2 certified, GDPR compliant, and trusted by the world's largest and most secure organizations.