Unmoderated Concept & Usability Testing
Test concepts with your own users for insights you can trust
Quickly recruit your own users to unmoderated concept and usability tests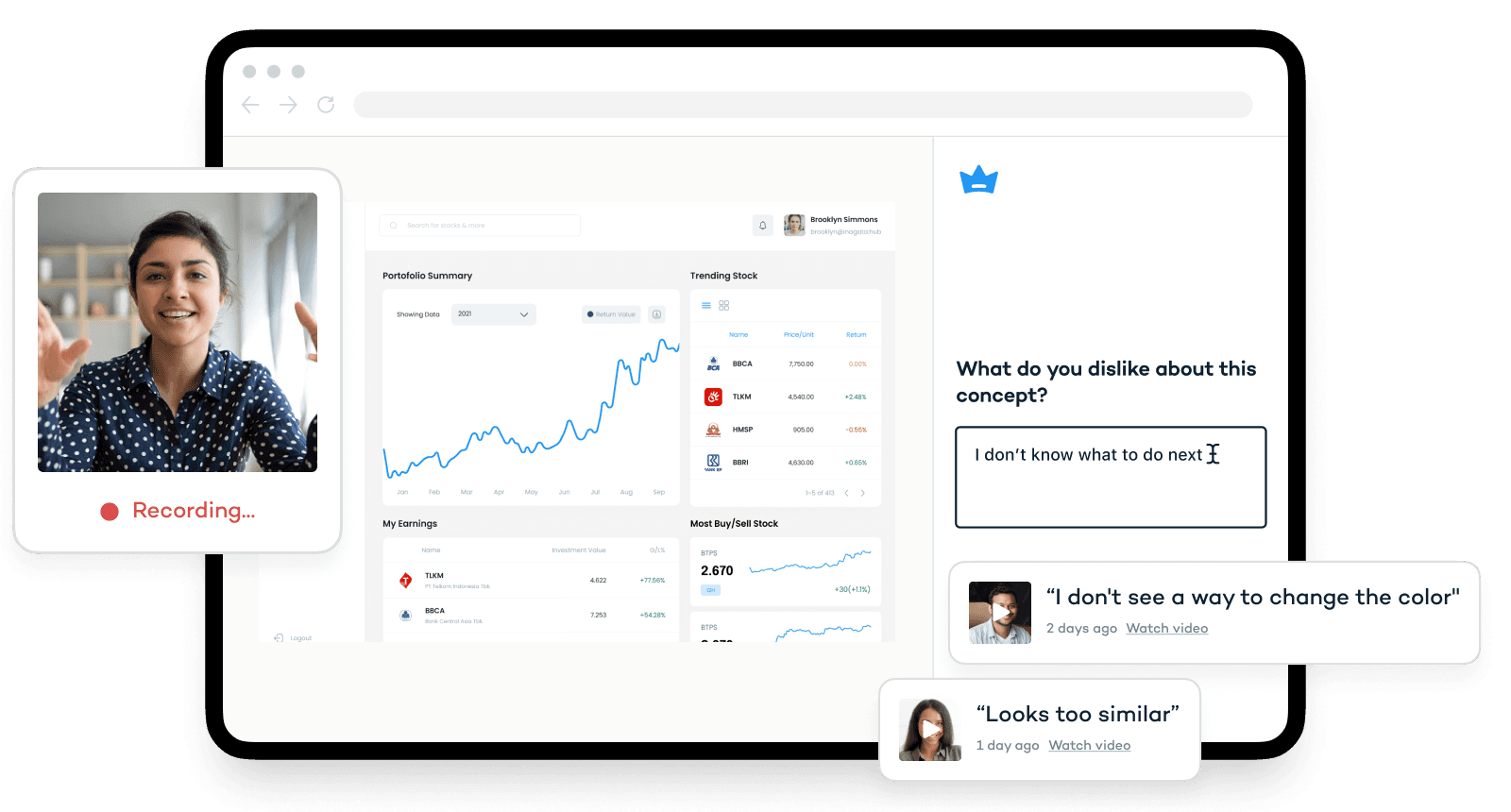 Run tests with highly-relevant users for quality insights in as little as 24 hours
Don't settle for low quality participants
Data shows that conducting research with actual users provides higher quality research insights. With Sprig, you won't need to settle for panels of look-alike testers, a poor test-taking experience, or selection bias.
Unmoderated testing that's easy for you
(and even easier for your users)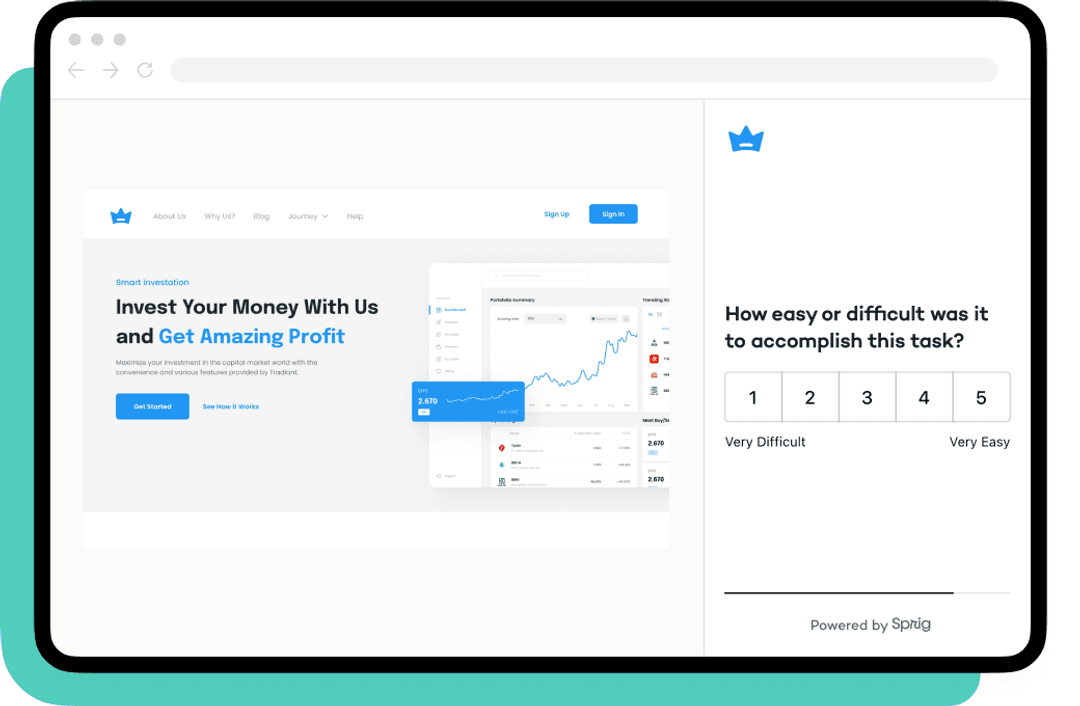 User testing
that's user-friendly
Participants can instantly review concepts, complete recorded usability tasks, and provide feedback via text, voice, or video without downloading annoying plugins or extensions.
Recruit testers from your product in minutes
Source hyper-relevant test participants from your product or app–without asking your data science or engineering teams for help each time you run a study.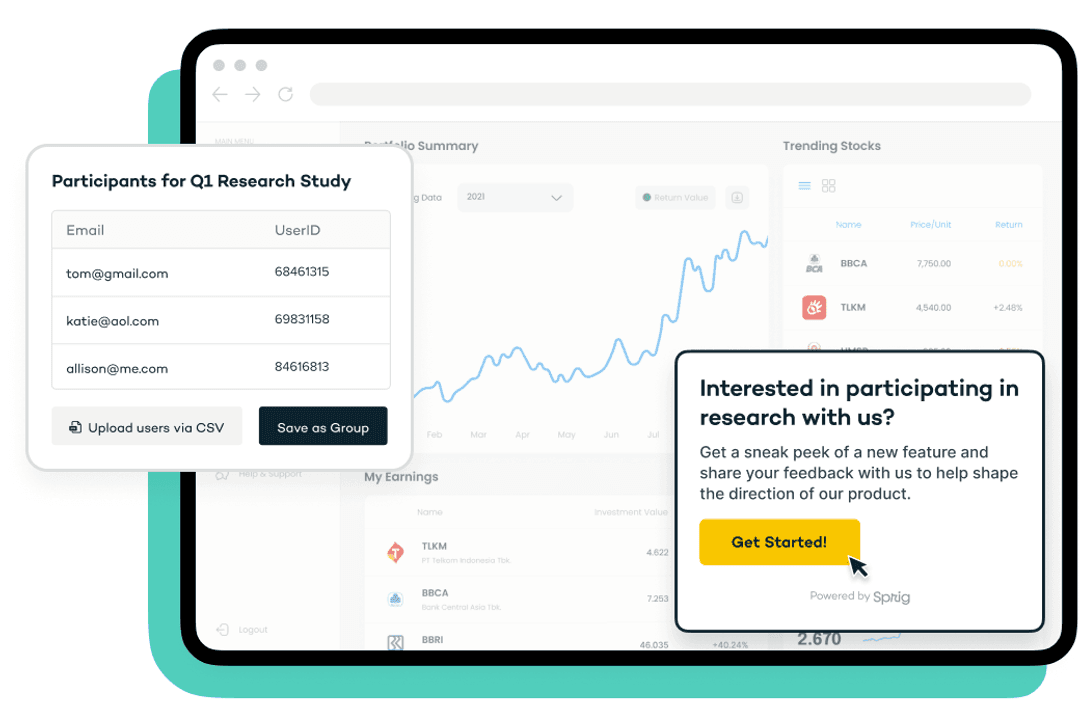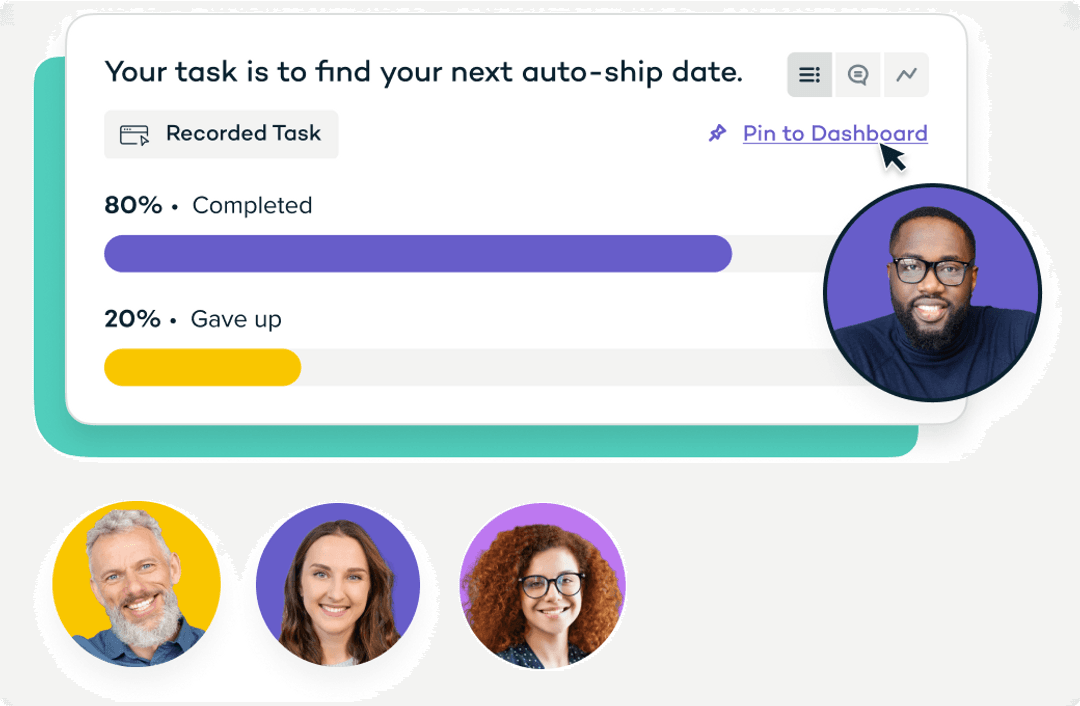 Built for teams to use together
Sprig is built for designers, researchers, and product managers to use together. Say goodbye to shared licenses and personal accounts, and start centralizing insights for better collaboration.
Unlike other tools I've used, Sprig has a great end-user experience. I finally feel comfortable sending our own users to complete tests because I know it will be easy and enjoyable for them.

Kevin Yan

Senior Product Designer at Loom

It's game-changing to get results back from unmoderated tests within 24 hours—and with our own users in-product, instead of a paid panel of testers.

Katherine Chen

User Research Manager at Opendoor
Flexible testing options fuel feedback when you need it
Copy. Paste. Test.
Launch concept and usability tests in minutes. Just set up your questions, add your Figma link with one click, and start testing.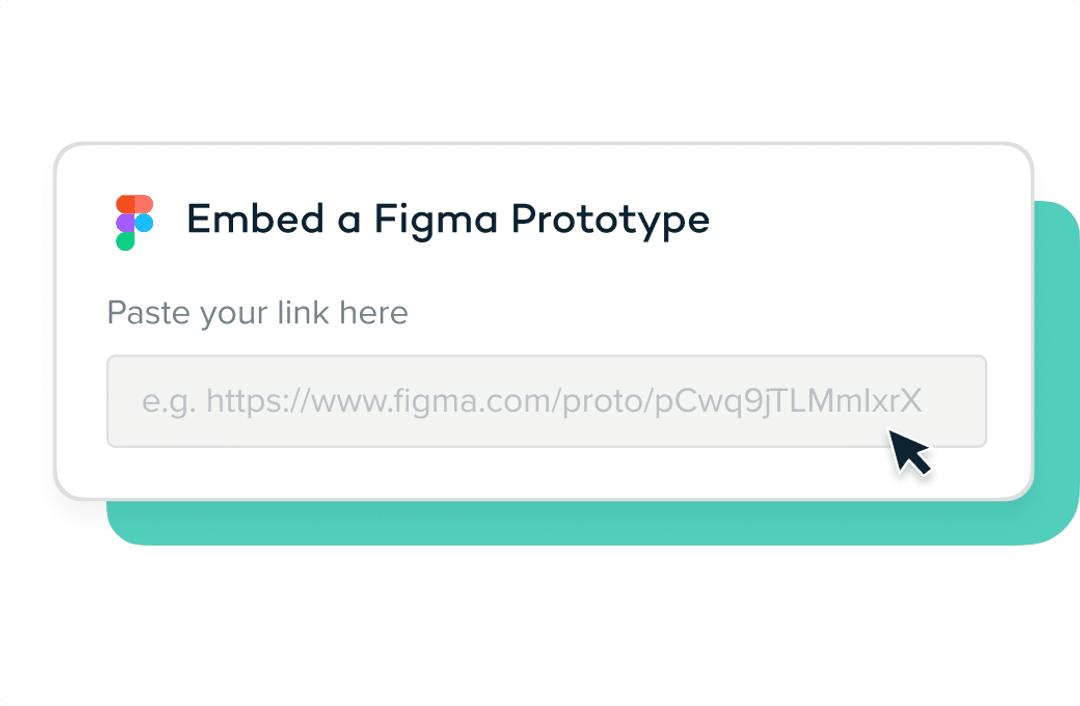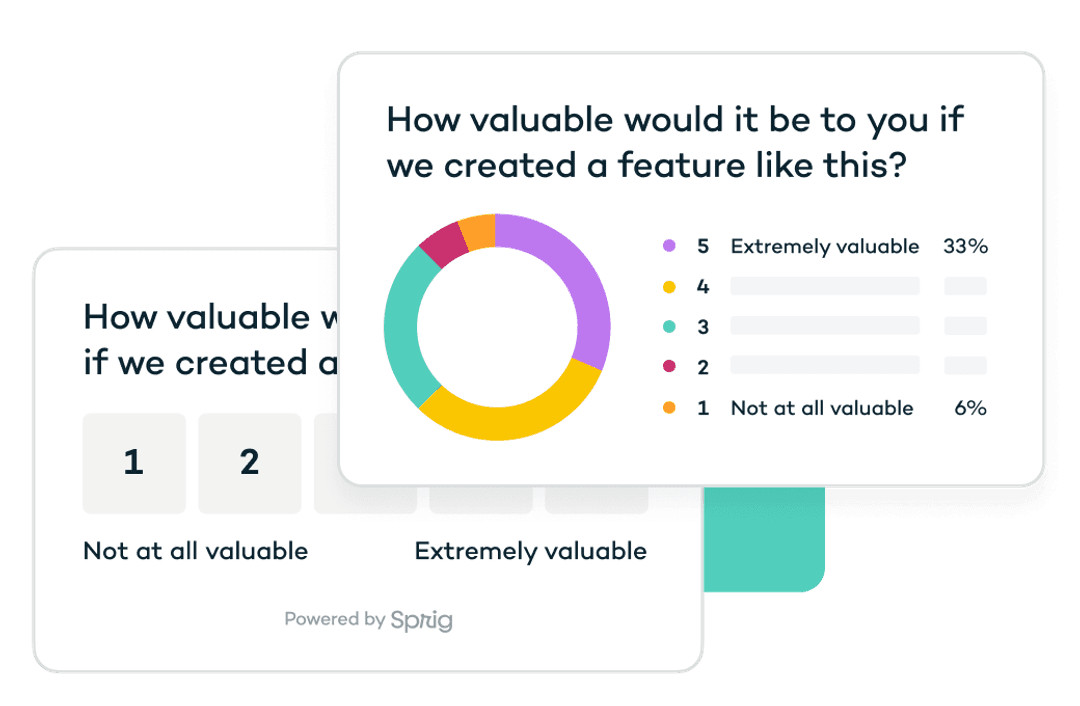 Get same-day feedback
Updating an existing feature? Target users right after they interact with the current feature, invite them to a 2-minute usability test with the new design, and get results back all within 24 hours.
Find the perfect participants
Make sure you get valuable feedback by pre-screening users right within your product or app. Once you've reviewed and selected participants, follow up with a single test link via email.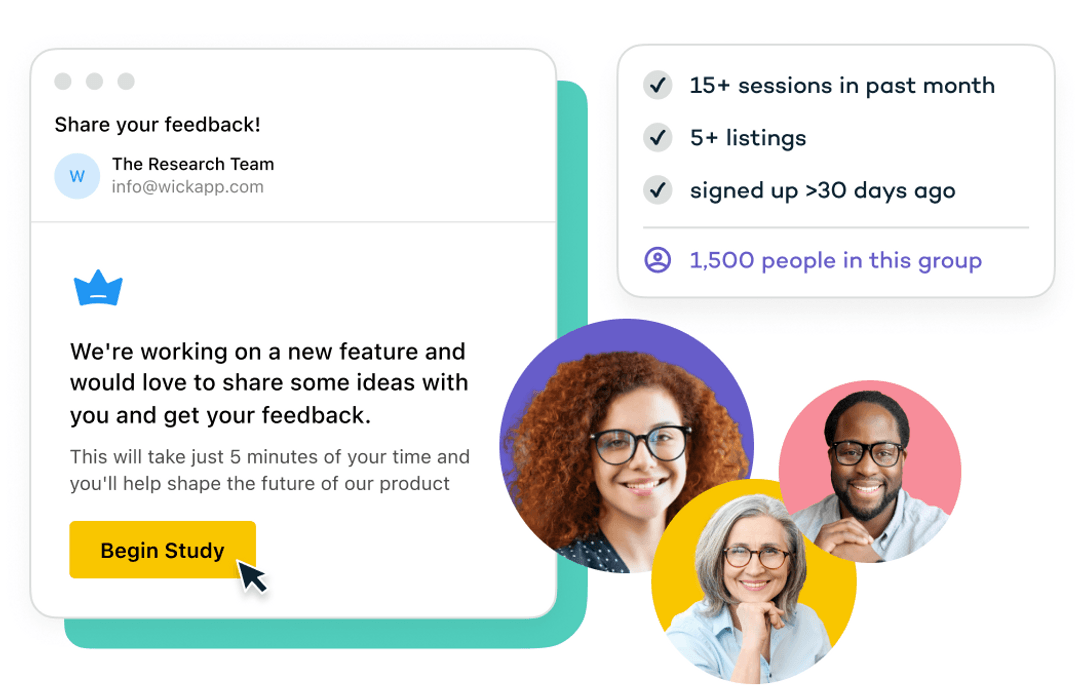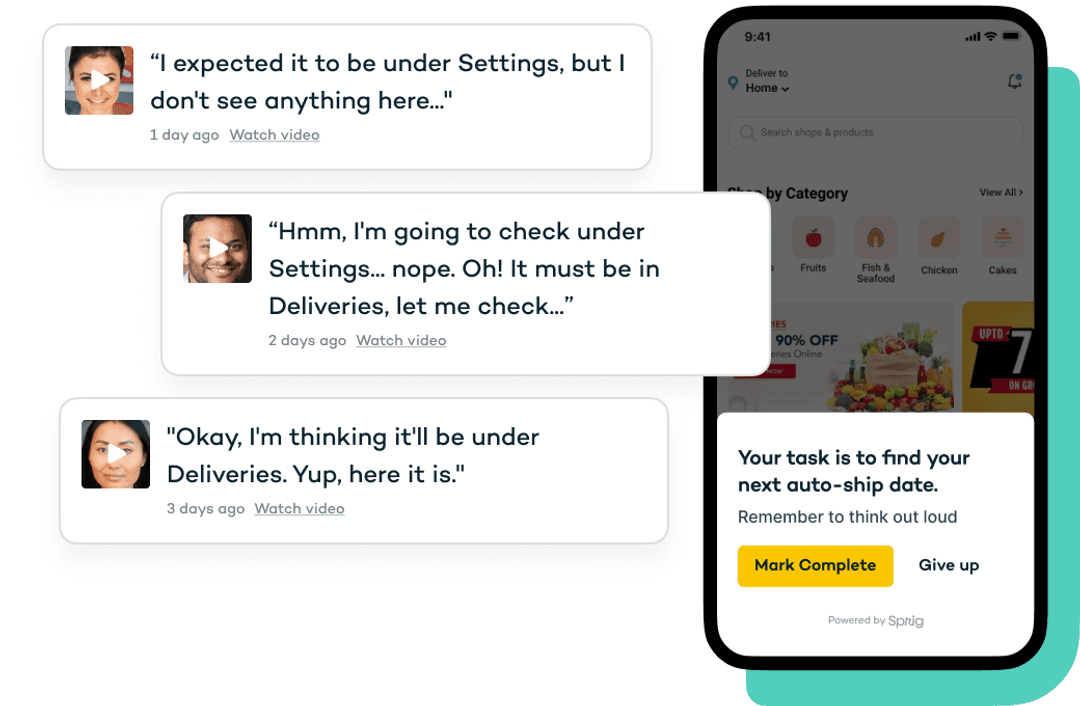 Test live experiences in-context
Just because a product has shipped doesn't mean it's done. Conduct usability tests in-product, during natural product usage, to spot critical issues and learn how to improve features and flows.
Send tests the way you want
With Sprig you can send users to test designs right from your product, trigger emails based off of usage, or embed links in other communications.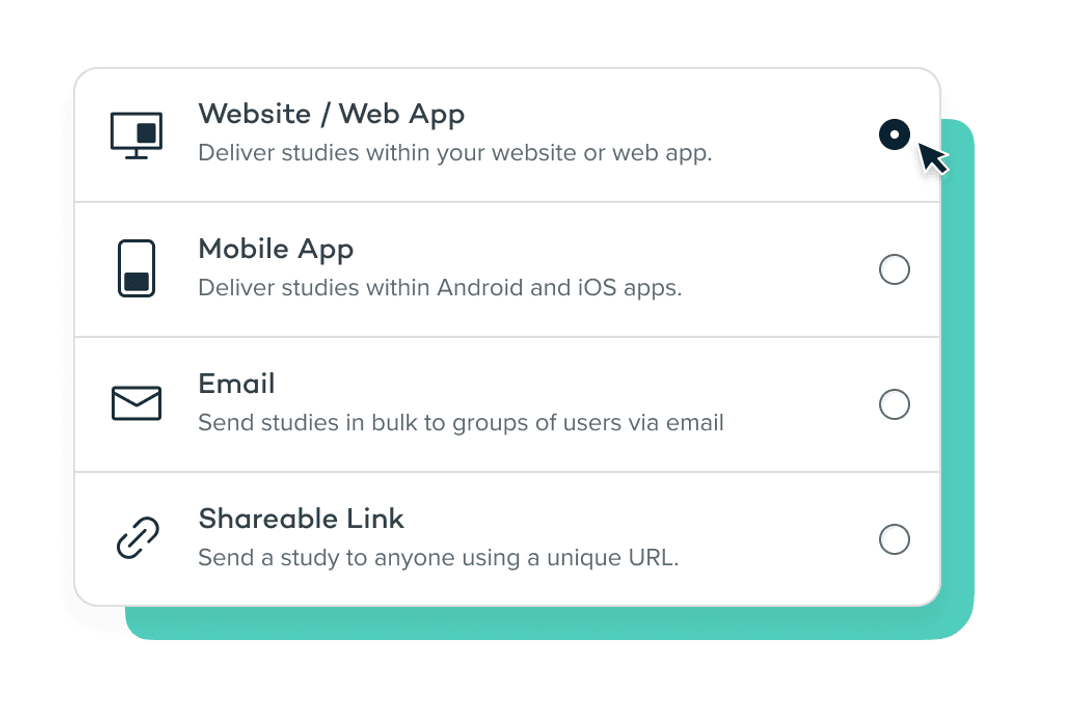 The data and insights you crave from the users who matter most
From screen recordings and transcripts to time-on-task metrics, Sprig makes it easy to analyze your testing data and share it with teammates.