Everything a UX Research Needs to be Successful
User researchers are responsible for planning and conducting research, gathering feedback to understand the needs and behaviors of users, and using those insights to inform successful product development. It's a big job that requires the right tools.
To conduct this type of research, product teams and user researchers have many different qualitative and quantitative methods at their disposal. Some of the most common methodologies that we see are moderated research, including user interviews, diary studies, and focus groups, or unmoderated surveys, A/B testing, remote concept and usability testing
To conduct this sort of research and user testing, UX researchers need the right tech stack. The insights are only as good as the tools that are in place to bring quality research data in — and then send quality insights out to stakeholders. That means the research team needs to be equipped with the right tools to reach participants, conduct moderated and unmoderated research, analyze and organize insights, distribute them to the right stakeholders, and collaborate with their teams on solutions to improve the user experience.
In this post, we'll look at:

What is a Research Tech Stack?
A research tech stack includes the SaaS tools, apps, and technology that researchers use to recruit and manage participants, run research and surveys, gain insights, and organize and distribute those insights. In a modern tech stack, these tools have built-in integrations with one another that allow for seamless management of research projects and helps researchers do their job better (and with more ease!) With native integrations with other progressive, growth-focused companies, it becomes easier to get the right data — particularly when there's more opportunity for feedback and data than ever before. Research teams and product managers need modern tools with the right functionality that focus work on the right insights for the most beneficial, actionable user insights.

Our Modern Research Tech Stack was developed based on the tools we actually love the most. Informed by interviews with our top customers, and based on the tools we use here at Sprig, this is a tech stack we can personally vouch for. With this research tech stack in place, teams can recruit users, conduct quick, in-product surveys, leverage live human interactions, and organize incredible insights in an easily accessible place.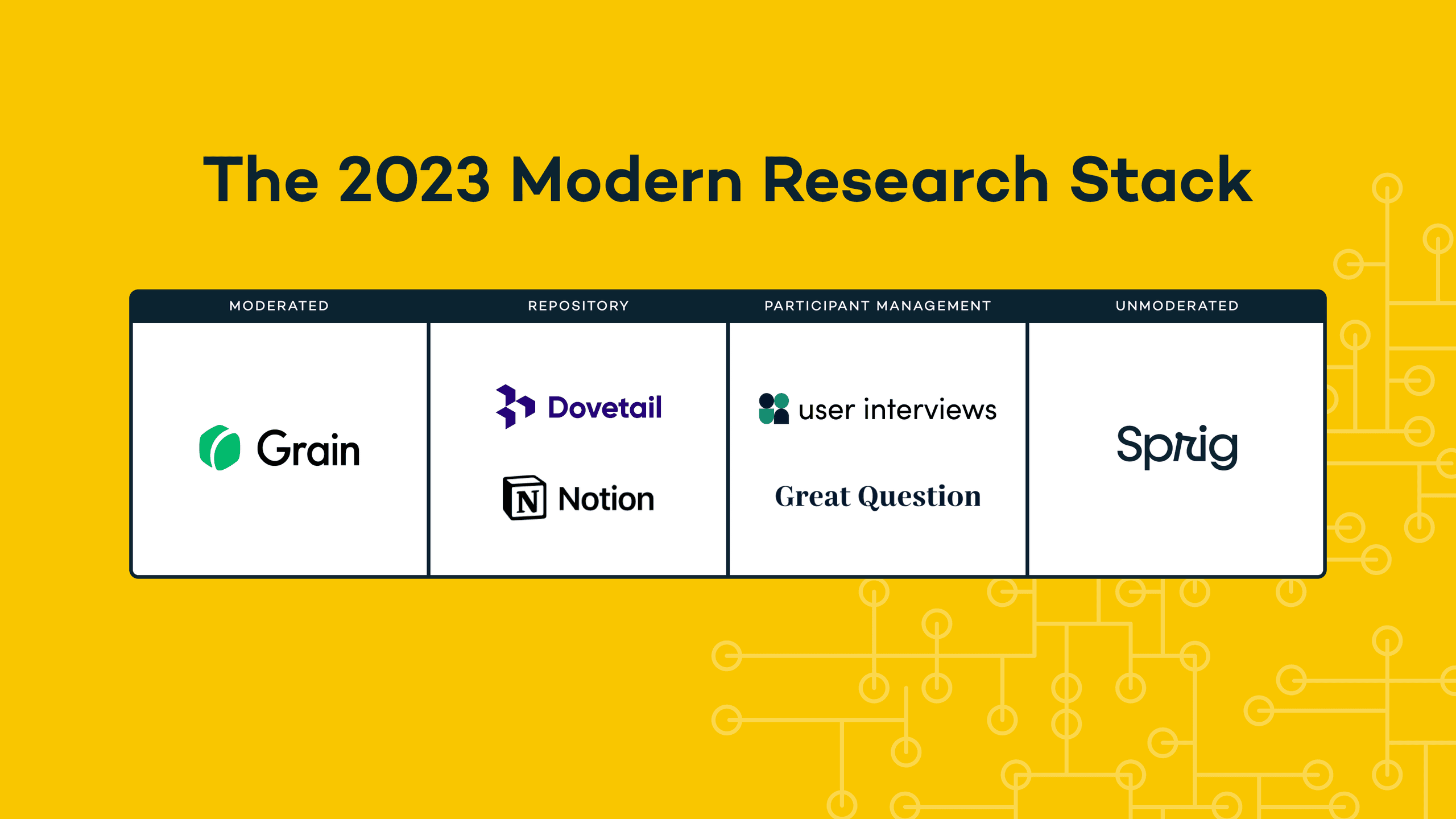 Best Tools for Moderated Research
User researchers use a variety of tools to conduct moderated research, which basically involves interviewing or observing users while they interact with a product. Moderated research is time intensive and requires a heavy lift to schedule the sessions and one-to-one interaction. However, with the right tool in place, teams can easily hear from and understand users, go deeper on specific topics and areas of interest, and ask follow up questions when necessary.
Grain Meeting Insights Tool
Grain allows researchers to record, transcribe, and clip video from research interviews, sales calls, and customer meetings to gather key insights that they might otherwise miss, and disseminate them throughout the organization. It also makes it easy to organize clips in an in-product library, search across those clips, and easily create bite-size highlight reels. Sitting down for interviews takes time, but interviews are only valuable if they get used. Grain makes it incredibly efficient to take the learnings from those interviews and make them accessible and actionable.

Plus, they have integrations with Slack, Salesforce, Notion, and others, so you can easily distribute insights to key stakeholders and collaborate on solutions.
Best Tools for Research Repositories
Again, research is only valuable if it gets used. And that means making it easy to find, access, and action insights not only by research, but by product design and management teams. A research repository, or research library, should serve as the central hub for the entire product team to quickly locate research insights, as well as relevant reports and analysis. If the company as a whole is going to be user-focused, everyone needs to know how and where to access research. These tools make that easy.

Dovetail
With Dovetail, all of a team's research insights are easy to find findable and accessible in a searchable hub, giving it life far beyond the initial research report. Teams can look back at reports spreadsheets to easily find past research, and share it with colleagues. The team's research is more impactful when everyone has access and tools like Dovetail make that possible.
Plus, they have an incredibly active Slack community, where teams can find answers to all research and Dovetail-specific questions.
Notion
Notion is a favorite across the tech world and beyond, with capabilities that include to-do lists, project management, and more. It's like they took a bullet journal and made it into an uber successful tech product. With Notion, researchers can leverage easy-to-organize and intuitive workspace for data management, including research reports and insights.
Research teams can use it as soon as they kick off a project for to-do lists and project management, but it's also ideal for any user research library that needs to live in a straightforward hierarchy of folders and documents, with executive summaries and deeper analysis easily accessible.

Best Tools for Participant Management
User research relies on quality participants to get quality data which can be turned into quality insights. Quality in equals quality out. That's why participant management and the tools that enable participant management are critical to a researcher's role. This includes tools that allow researchers to recruit participants for studies, manage timelines, scheduling, and projects, as well as allocate incentives after the study has wrapped up. Plus, both of our recommended modern research stack tools power both moderated and unmoderated testing.
User Interviews
User Interviews allows researchers and ux designers to seamlessly recruit quality participants for research studies quickly — speed is the name of the game. They can target based on job titles, skills, consumer behavior, product usage, and more and launch studies with the right users in minutes. If a team needs fresh perspectives on a product, a User Interviews panel is a no fail way to get quick feedback. And, there's an added bonus: User Interviews and Sprig recently announced an exciting integration to use panels with Sprig surveys! You can even effortlessly distribute incentive payouts to your participants once a study is completed.

Best Tools for Unmoderated Research
Unmoderated research, including in-product surveys, concept and usability testing, and lightweight diary studies, are loved by researchers for their ease of use. They're efficient, cost-effective, scalable, flexible, and they don't require hours wasted scheduling, re-scheduling, and traveling to study participants in person. A good unmoderated research tool in the modern research tech stack will give researchers access to user feedback across the product development lifecycle and provide conviction into every product and feature the team builds.
Sprig
We have to give ourselves a shoutout here and teams like those at Dropbox, Loom, Robinhood, and Opendoor would agree. Sprig powers both in-product surveys, as well as concept and usability testing, giving product and research teams the ability to quickly get user feedback from day one through launch, and back again. Researchers, ux designers, and product managers can test concepts, designs, and prototypes with their own users — the ones who will actually use the product, and reach users in-app to get real-time feedback on their product experience. Plus, with Sprig's AI analysis, researchers can ask open text questions and use AI to group those responses into themes, saving time and effort, and giving the team the ability to analyze more insights, faster.

How to Get Buy-In and Support for the Modern UX Research Tech Stack
Most software tools, of course, come with a cost, and it's likely that the organization will want to understand the value before approving a new line item in the budget. The good news about the modern UX research tech stack is that these tools allow you to test them out for free before making a commitment. This gives you the opportunity to try them out and make sure that you love them as much as we do.
Beyond the benefits these tools for increased quality of insights,they also:

Reduce time to insight

Optimize your workflow so you can do more with less

Increase efficiency and maximize your current tech stack through cross-product integrations
These benefits directly impact the bottom line and provide a data-driven case to stakeholders and decision makers for investing in the modern UX research tech stack.