This blog post was based off a recent webinar. Prefer to watch? Check it out here!

Learning from your users with in-product surveys is the most efficient way to understand their experience in the moment and at scale. This type of research gives you instant access into what users are thinking as they complete an action and fuels your research with powerful insights on how to optimize every step of the customer journey.
Sprig's newly released Groups feature enables anyone conducting research to easily launch in-product surveys and learn from their users.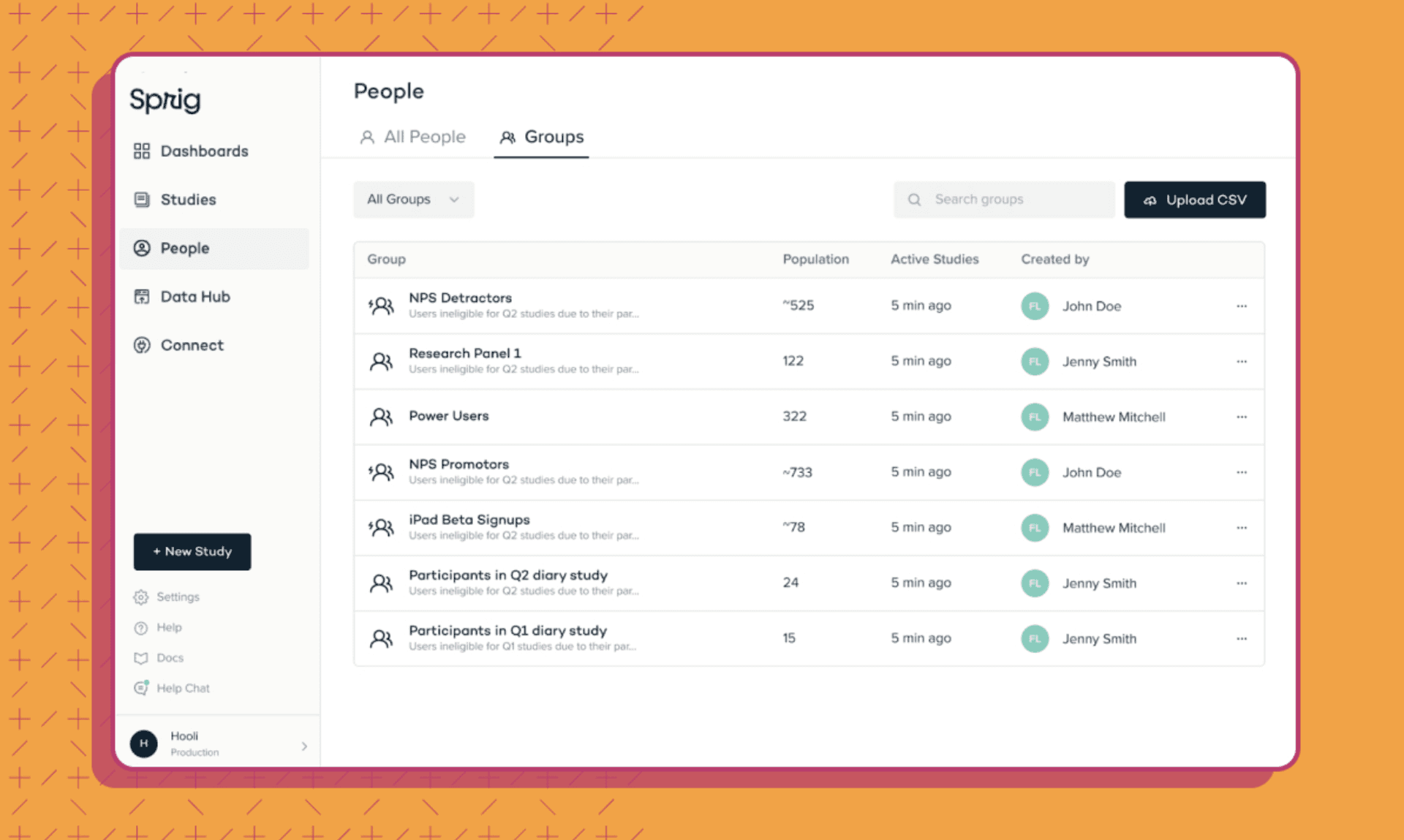 Using the Groups feature, a research or product team can build and study specific user cohorts over time in their in-product surveys. These user groups can be hyper-specific, since Sprig allows you to target based on events and attributes (i.e. user actions and characteristics) in your product. Instead of recreating their target audience in every new survey, researchers and product managers can now set their targeting criteria once, watch it auto-refresh in the Groups tab, and add that group to their survey when they're ready to launch.
Alongside making it easier to launch in-product surveys, there are a variety of additional, more advanced use cases for using Groups with Sprig, including: the ability to conduct meaningful and seamless follow-up research, conduct in-product diary studies, and facilitate longitudinal research.
Intrigued? Let's get into it.

A Closer Look at In-Product Surveys
We're big in-product survey fans here. Why? Because they're the best and only way to capture users in real time as they complete a flow. This is especially helpful when you're looking into a key customer journey segment, like an onboarding flow. You can ask critical questions and users will give their live reactions — recall bias is eliminated.

The result is granular, qualitative insights at scale. You can ask open-text questions that will give you the richness of immediacy and detail that would be lost if you asked a few days later. And, regarding scale, you don't have to sift through every answer with Sprig. Our AI analysis helps you efficiently get insights from those open text questions by pulling out and sorting them for easy insights.
Plus, in-product surveys make it simple to conduct continuous UX measurement that leads to a more customer-driven and user-focused organization.
How to Use Groups and In-Product Surveys to Enable Deeper and Strategic Research
By combining Groups with in-product surveys, you are able to gather more specific and deeper insights on smaller groups of users in real time. Here's how they work effectively together.

Studying high priority populations

Managing follow-up research

Conducting in-product diary studies

Facilitating longitudinal research studies
Let's take a closer look at each use case.

Study high priority populations through Groups
Using Groups lets you target the people who know your product inside and out. These high priority populations are the experts in the use cases you want to study, and you can combine any set of events or attributes to determine who falls into the group. These Groups could include power users or advisory boards, beta users in specific countries, or users of a specific feature.
Benefits of using these high priority populations include:

Ability to easily connect with the same target users multiple times

Dynamically refreshed Groups based on events and attributes

Same-day insights
What does this look like in practice? Let's say you're an e-commerce candle subscription company called Wick (that's the fictional example you'll see all over Sprig's website!). You could survey beta users in core regions to get real-time feedback on an auto-ship feature. You may go back to these users multiple times to get continuous feedback from this critical cohort of users that you care about and who are continuing to use the product over time.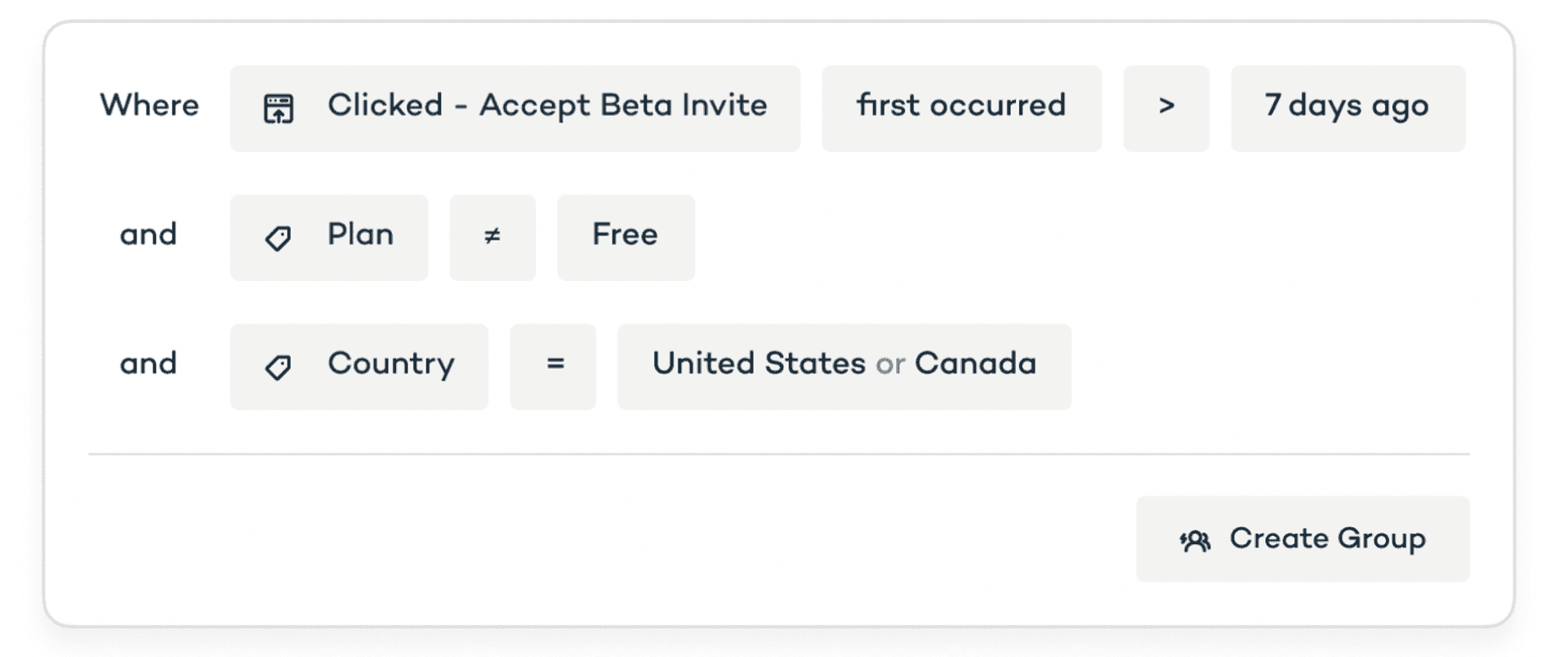 For example, Survey 1 might ask how easy it was to set up auto-ship. You could make adjustments based on their feedback on scheduling the shipments or whether they found it easy to pause shipments when they are on vacation. Then, after they have used auto-ship a few times, you ask how satisfied they are with the auto-ship process in Survey 2.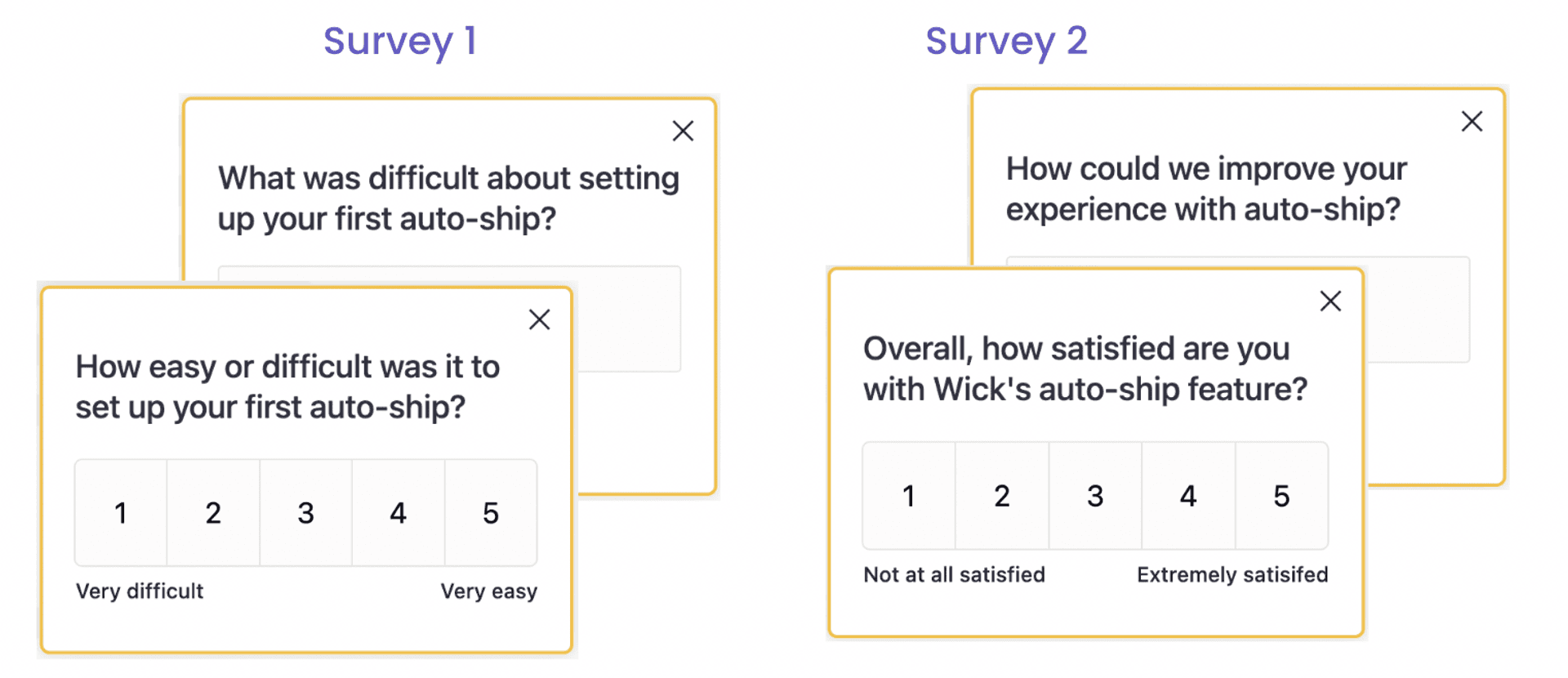 Use Groups to manage follow-up research
Groups also allow you to dive deeper into past in-product surveys or concept & usability tests based on previous responses or user criteria. You can target users who previously participated in these studies and track how their experience changes over time with additional product and feature updates.
Benefits of conducting follow-up research through Groups include:

Spend less time sorting through research data

Hyper-target research based on previous responses

Easily recruit users for future moderated research
What does this look like in practice? Back to Wick, let's say there's dissatisfaction with delivery rescheduling for the candle subscription. To get to the bottom of it, run a CSAT survey on the website for users who have tried to reschedule their delivery.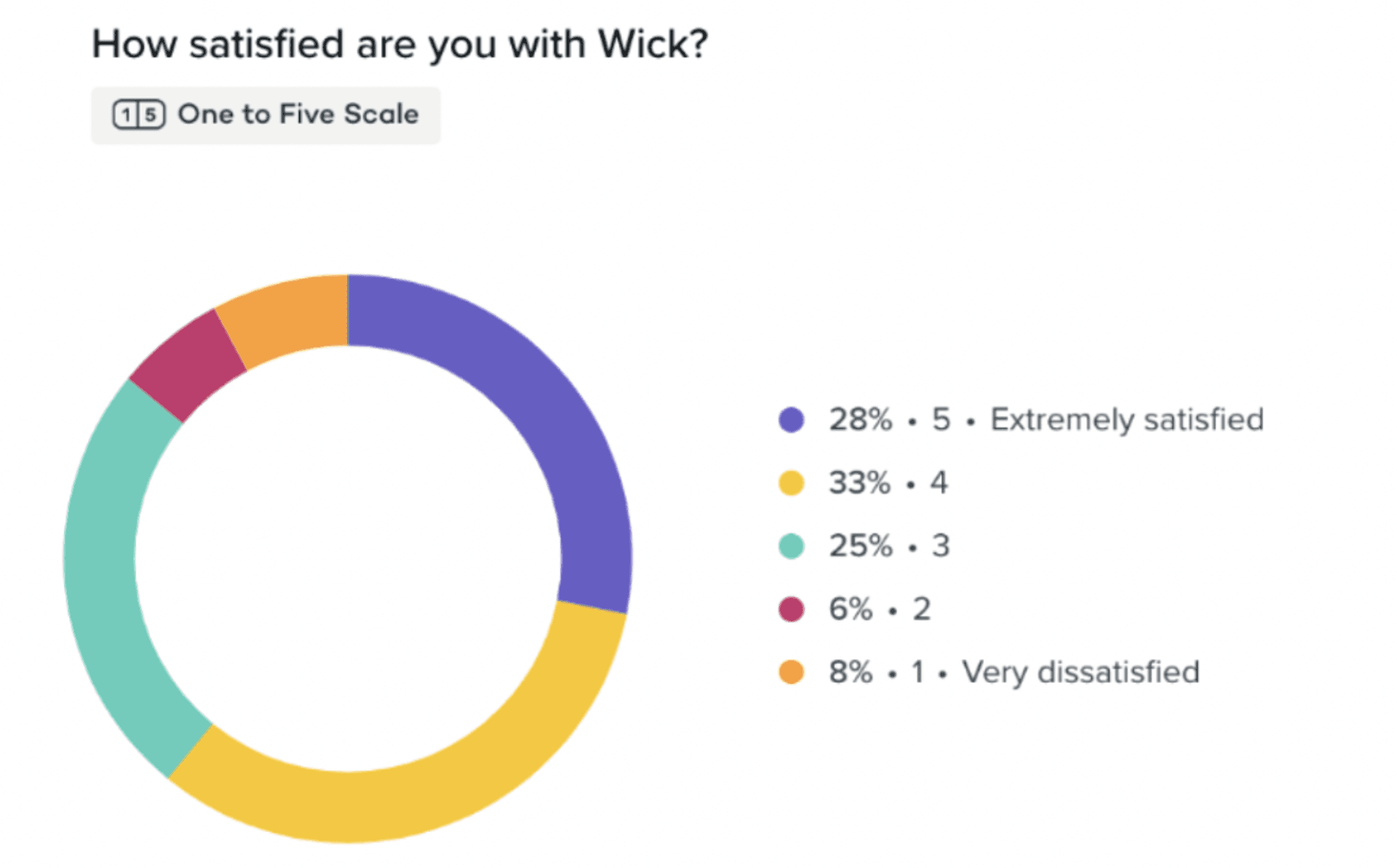 First, ask whether they are satisfied. Then, add an open-text question asking how the process can be improved. Sprig's smart analysis lets you easily find a theme like "make it easier to reschedule an order."
Then, layer on another survey with this particular cohort of dissatisfied reschedulers, asking what's difficult about rescheduling and how it can be improved. Continue to follow up with this group as you make updates and changes, making sure that your updates are actually addressing their concerns.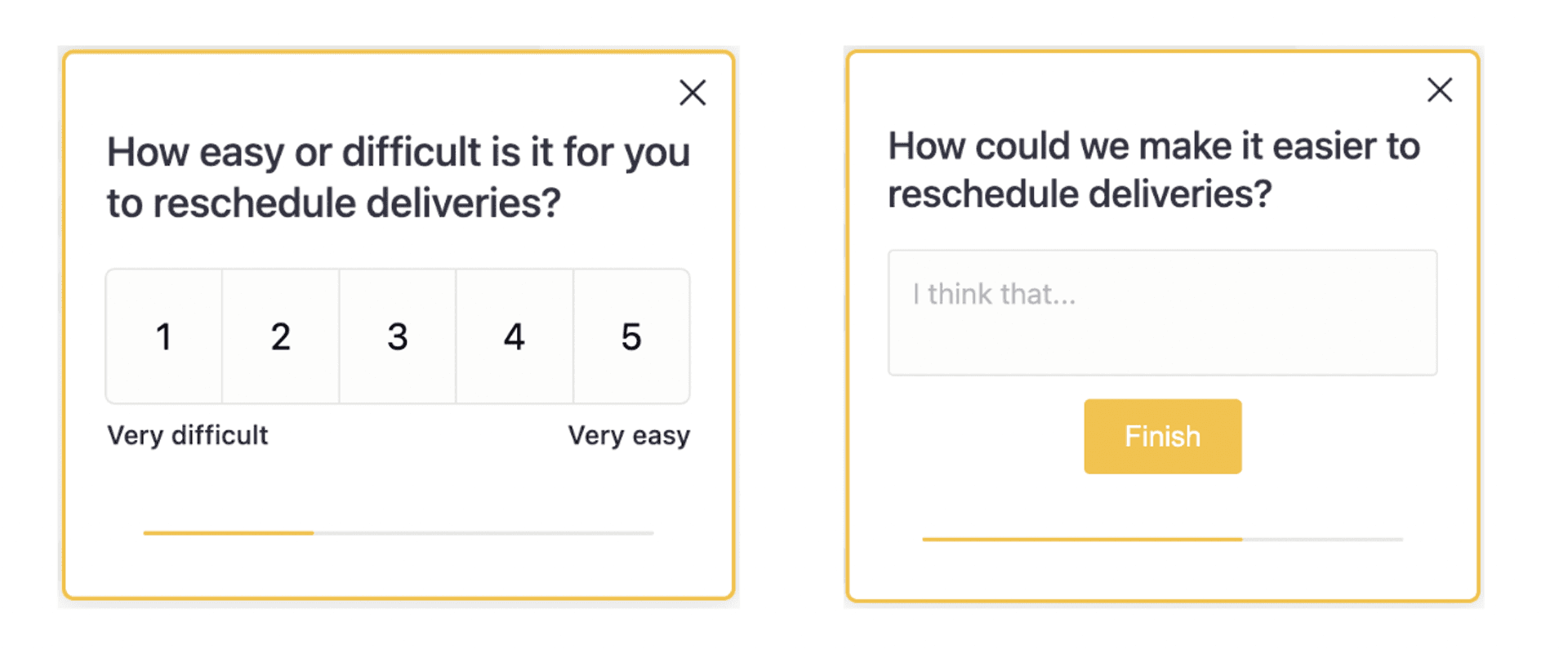 Conduct in-product diary studies with Groups
Diary studies can offer incredible, rich insights — but following specific users over time comes with significant effort on the logistics side, as well as reliance on users to stick with it. By using Groups with in-product surveys to conduct lightweight diary studies, you create less effort on your end, as well as less effort on the end user to remember to participate. The result is a multiple touchpoint study that captures user experience over time as they complete specific tasks and lets you understand what your users are experiencing throughout their experience with your product.
Benefits of in-product diary studies using Groups include:

Recall is higher during natural usage

Easier to prompt responses which leads to less drop-off during active usage

Easy tracking of recruited participants and their behavior for both study management and triggering diary study activities
What does this look like in practice? For Wick, users could be recruited during their onboarding process with the subscription. An in-product survey would prompt them to opt in.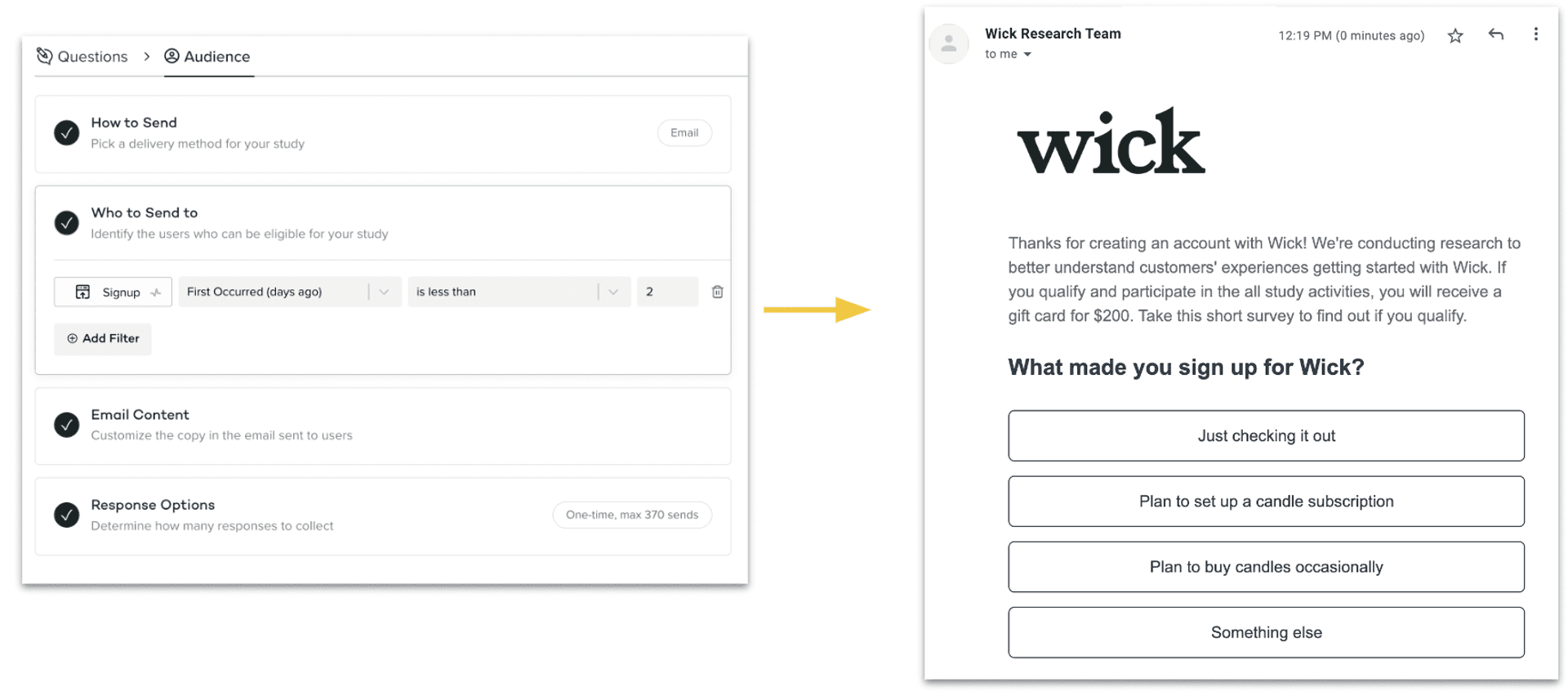 Then, a sample in-product diary study flow could look like this:
Activity One: Get to know the user! Develop a baseline for how they interact with the product.

Activity Two: How's their visit to Wick? Are they finding what they need? Easily adding items to this month's subscription?

Activity Three: How did their first delivery go? Check in to see whether they were satisfied with the delivery process and what could be improved for next time.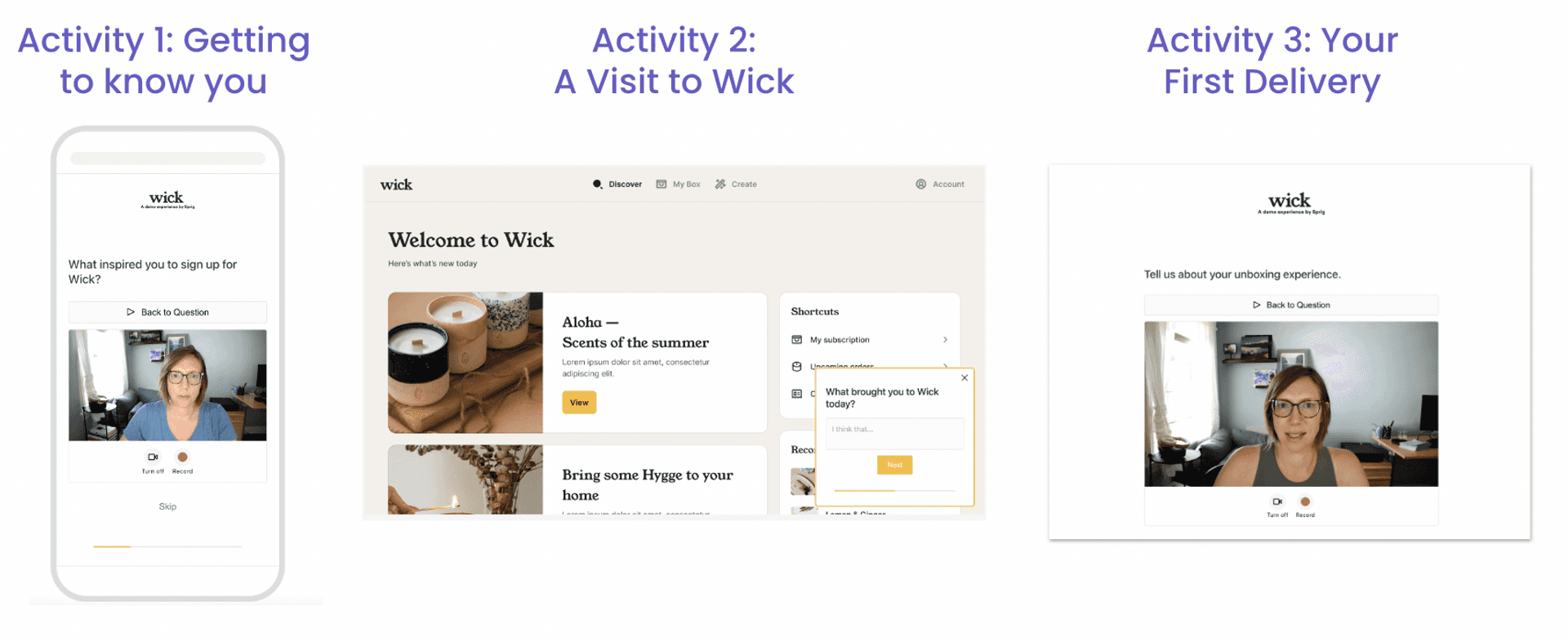 Facilitate longitudinal research with Groups
By using Groups to study users over time through longitudinal research, you can understand the impact of a new feature release, dig into underlying root causes of behaviors, and take advantage of historical data analysis. How does this differ from diary studies? It's experience-based rather than action-based. You can look at users who canceled and track how they felt at the beginning of the process versus the end. What did they expect that wasn't delivered on? How do their feelings differ from those who didn't cancel?
Groups and longitudinal research enable you to understand how user perceptions are changing over time and then tie that back to hard data you have about cancellations, product usage, feature adoption, and more.
Benefits of using Groups for longitudinal research include:

Combine and triangulate multiple kinds of data

Tying research and product analytic data together

See responses over time with associated actions

One-time setup, continuous results over time
What does this look like in practice? The team at Wick creates a Group of everyone who signed up for a candle subscription over time and tracks these people throughout their journey.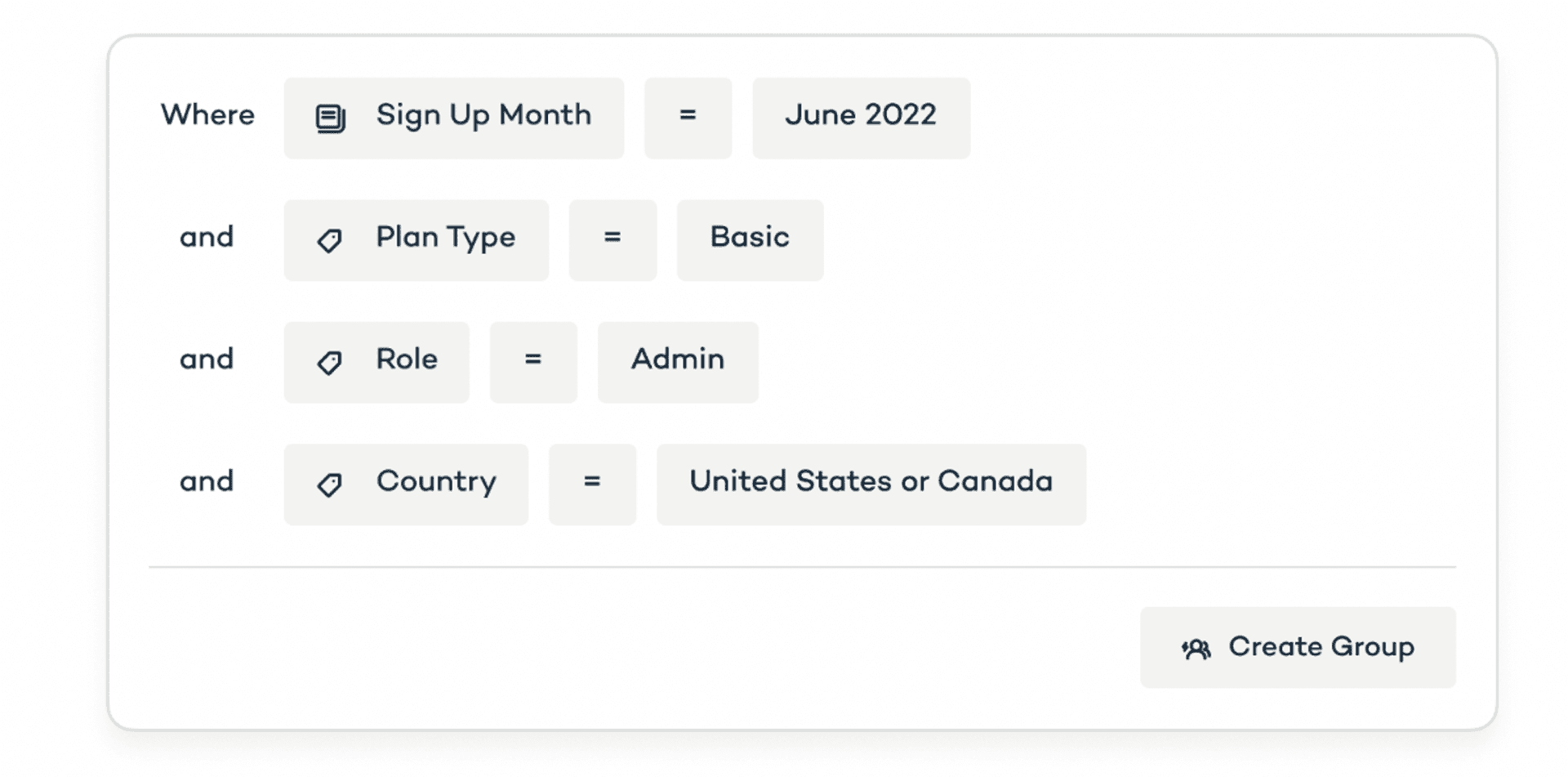 Here's how the survey cadence would go:
Survey 1: Run once. What made you choose Wick? What's your primary goal for using Wick?

Survey 2: Run continuously and monthly. What challenges, if any, have you had with Wick during the past 30 days? How would you rate your experience with Wick over the past 30 days?

Survey 3: Triggered based on specific behaviors. What would have made Wick easier to use? What's the main reason you canceled your subscription? (This type of research helps you understand issues like churn.)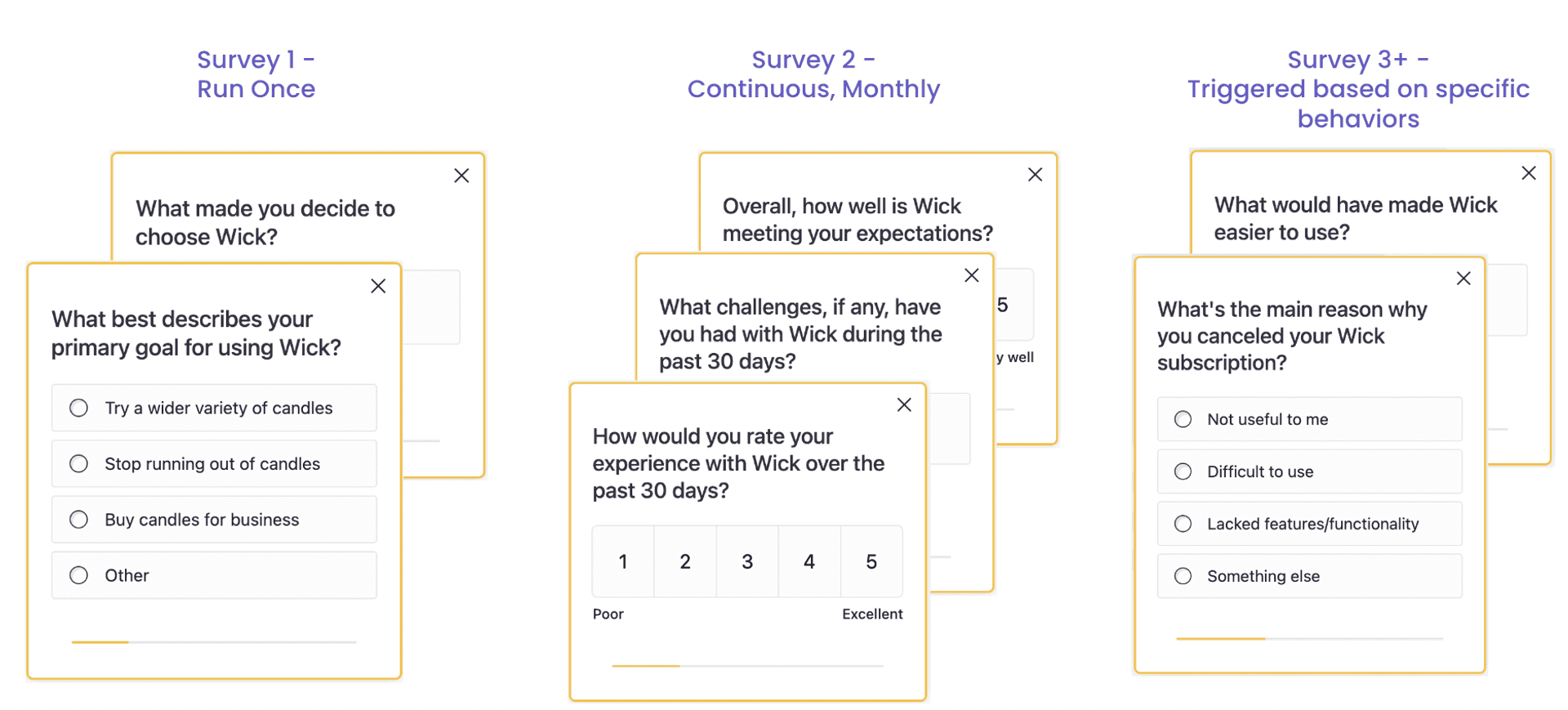 Get Started with Groups
Leveraging Groups, or specific cohorts of users, that automatically refresh over time gives more context and deeper understanding to your research. Plus, you don't need to rebuild these Groups each time you run a study. They will dynamically refresh based on events and attributes that you set within the Sprig platform.
To do the type of meaningful and specific research that's possible by tracking the same users over time and targeting those who will provide the highest value insights, you need a way to efficiently and seamlessly contact your users in-product. By combining the capabilities of Groups and In-product Surveys, Sprig makes it easy to do that and lessens the effort for both you and your user. Get started today.