At Sprig, we're all about hearing from the people that make your products successful, so we thought it was time to hear from the people that make our product successful — our Sprigsters (yes, that's what we call the awesome team here at Sprig!). So we're kicking off a new series where we interview the people behind Sprig. From designers to product managers, user researchers to engineers, marketers to sales, we're going to talk to them about why they joined
Sprig, how they've navigated the startup world, and what advice they'd have for those looking to follow a similar path.
Now here's our interview with Sprig's Design Manager Chris Lee, a design veteran who's spent time at Google Chrome and Uber Eats, and who you'll find tweeting over at @cleerview and now on Mastodon at @cleer.
What are you most excited for in 2023, outside of work?
Most of my time outside of work is spent with my son, who's a little over a year old. He's getting to the age in which he's revealing more of his personality each day and becoming increasingly more articulate. 2023 will be an exciting year to get to know him even more.

Have you spent your entire career in design? Tell us the quick life story of your career.
I've always been drawn to design and technology, and I'm fortunate to have a career that allows me to combine these interests. I spent my teenage years tinkering with building websites, and eventually decided to study computer science in college with the intention of becoming a software engineer. But along the way, I fell in love with design and HCI. I got the opportunity to work at companies like Google and Uber Eats, where I built global products and learned from some of the best designers around. Now I'm excited to bring my experience to Sprig and keep growing and learning with the team.

You joined Sprig in fall 2022. What inspired your jump from working in big tech, previously Google and Uber Eats, to working at a startup?
I was interested in joining a smaller, more agile team where I could have a greater impact and be closer to the decision-making process. What made me particularly excited at Sprig is its mission: As a designer, I'm passionate about using research and data to make well-informed decisions, and I'm inspired by the work we're doing to make that easier.

What are you most excited about in leading a smaller team? What are you most excited to learn?
I'm looking forward to being a close partner to each individual on the team to help them achieve their full potential. I want to create a culture that is empathetic, challenging, and empowering.
As far as learning goes: I've spent my career at larger companies but have always personally appreciated a scrappier way of working. I'm excited to find the right balance between structure and flexibility as the team grows.

You're in the NYC office. What is the office camaraderie like? How has the return to office impacted starting a new role?
Sprig is headquartered in San Francisco, but we're growing our presence in New York City, where we conveniently opened an office the same week I joined. While the SF office is full and lively, the crew at the NYC office is smaller. There are only 5-10 people of us currently, so the office has a lovely close-knit culture. We typically come into the office twice a week - a perfect balance for me as someone who appreciates the flexibility of working from home but also enjoys the social interaction and spontaneous collaboration that comes from an office.

You launched a website design test basically as soon as you started. Tell me more about it! Were there any surprises?
The marketing team and I collaborated in Figma, bouncing ideas off one another. We used our own product, Sprig, to root our decisions in user research. We embedded surveys in our current website to understand what information viewers care about when they land on the site. We also took our top concepts and, using Sprig's Figma integration, ran concept tests comparing different versions of the site.
However, research is never just "one and done". Neither of the initial versions we were considering really hit the mark, but we learned a lot from the process to inform our continued iterations. We're excited to continue refining our website to best tell the story of how Sprig can help teams build great products.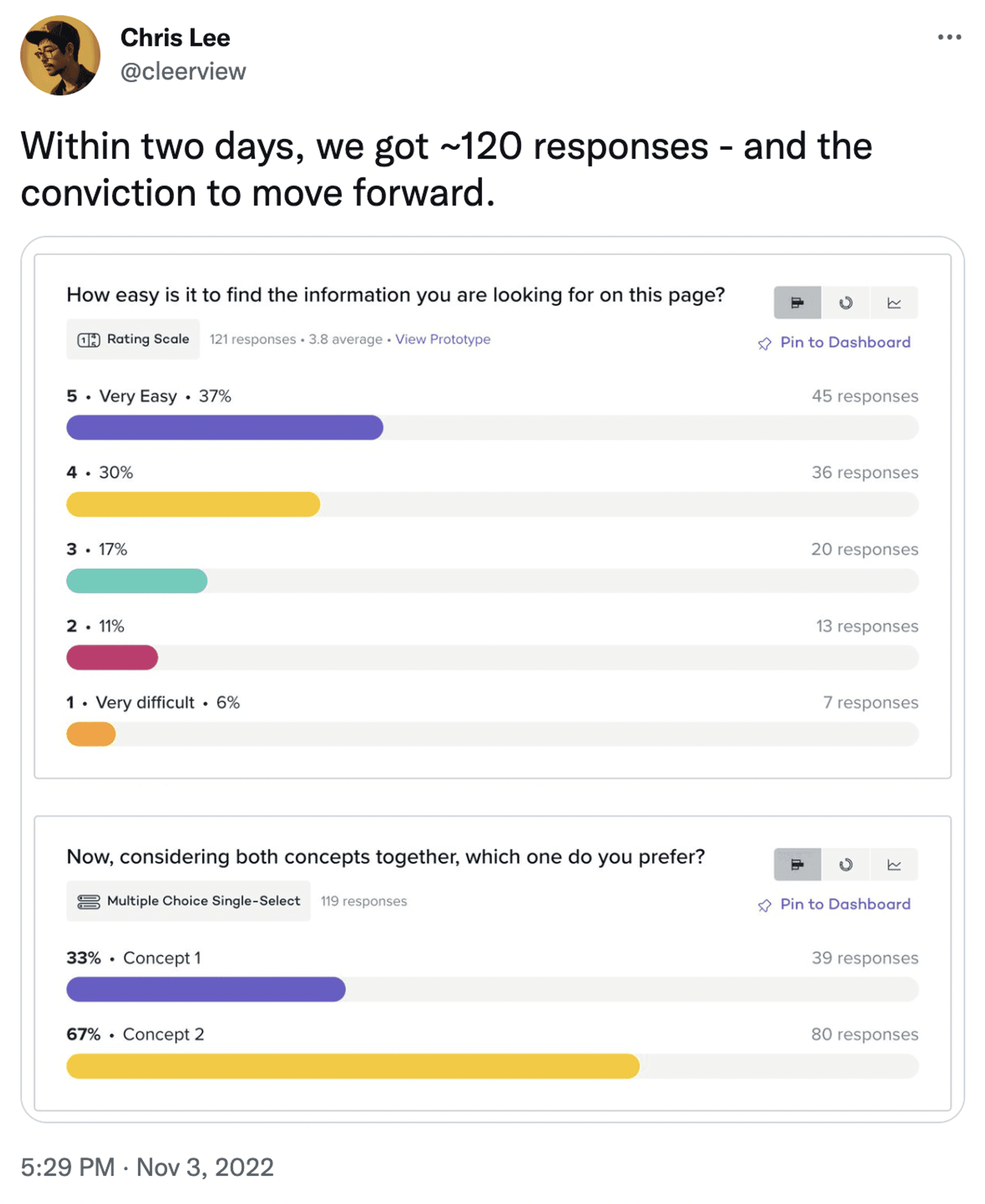 How do you see Sprig's mission reflected in its culture and everyday values?
At Sprig, we're helping product teams build great products with conviction by getting feedback from their users efficiently. This mission is reflected in how we work as a team. We move quickly, but also challenge one another to have conviction in our choices, rooting them in research and data.
And when we interact with one another, we aim to apply the same empathetic and curious mindset that we would take towards product research. We debate decisions within a space of trust and regularly ask for feedback from one another.

A few months in, you're basically a startup expert now! What would you recommend to someone beginning at a startup for the first time? What did you do in your first few weeks that made a positive impact?
"Expert" is definitely a stretch! But I think people who thrive at startups are those who don't wait for direction but instead identify what's most important to the business and how they can use their skills to help. In my first few weeks at Sprig, I heard that making our marketing website clearer and more compelling was a top priority. My background is in product design, not marketing design, but I jumped into brainstorming positioning, copy, and layouts to drive forward this initiative.
Thank you to Chris Lee for all of his thoughtful answers, and, if Sprig sounds like the type of exciting, fast-paced, collaborative environment you'd thrive in, too, check out our careers page!