Make your product your most valuable source of user insights
Sprig makes it easy to conduct high-impact research with the right users across the entire product lifecycle.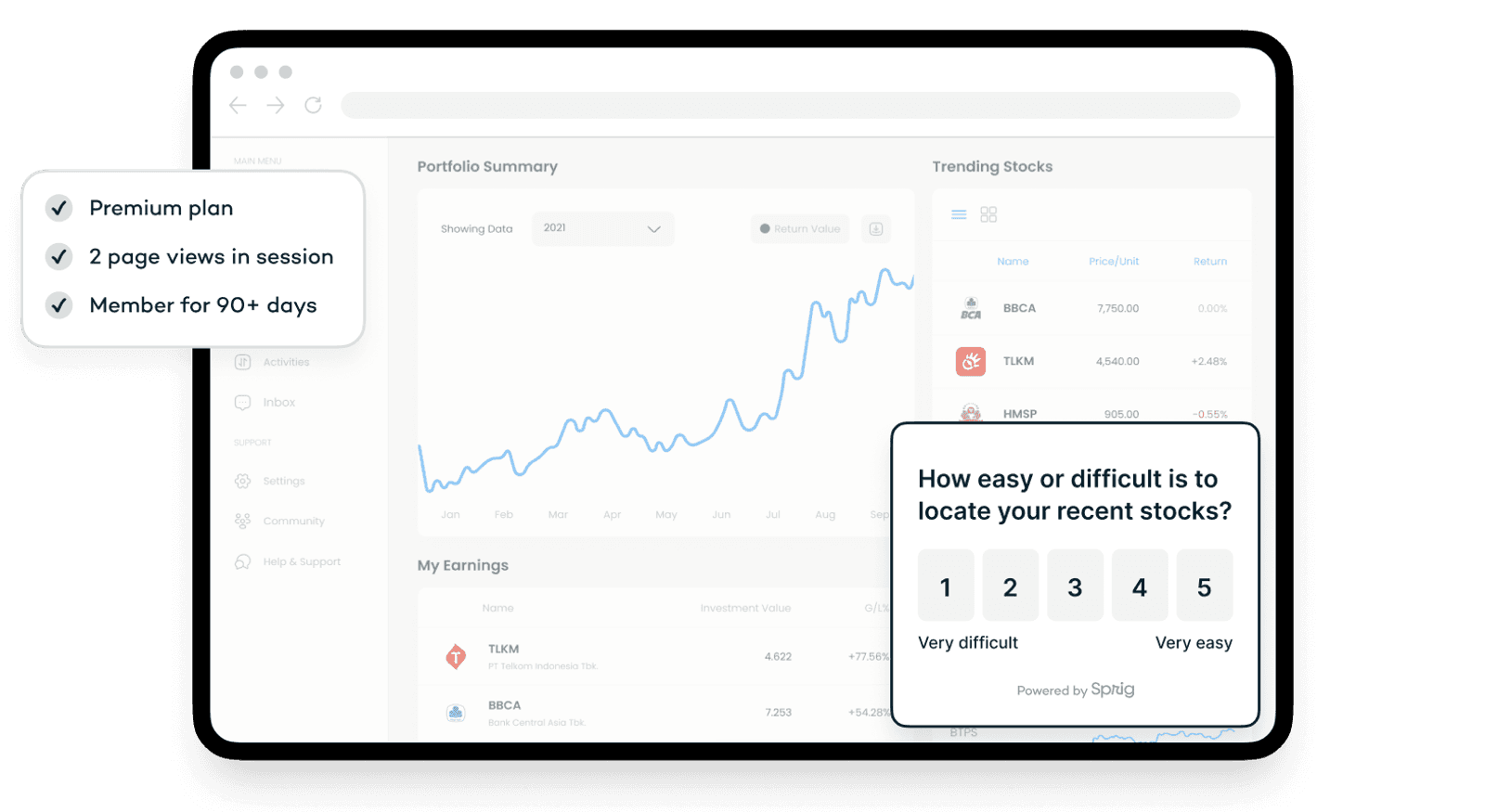 Trusted by the world's most innovative companies
A direct line to the users who matter most
The best insights come from your own users, but those users can be hard to access. Sprig improves confidence in your data and unlocks transformational insights by leveraging your product and users for research.


Sprig helps ensure every product
decision is research-informed
By making it easy to conduct research with your own users across the entire product lifecycle
Evaluate existing Product experiences
Learn from users in real time with in-the-moment surveys
Surface valuable insights as your users experience your live product. Ask questions in-product, via email, or within existing journeys.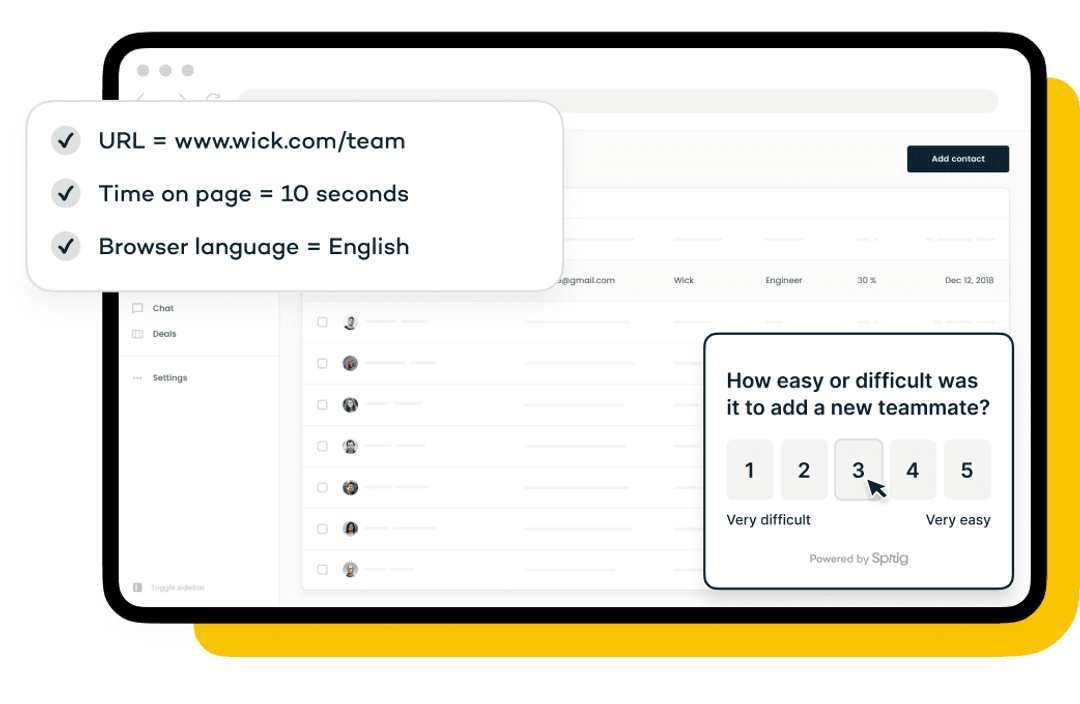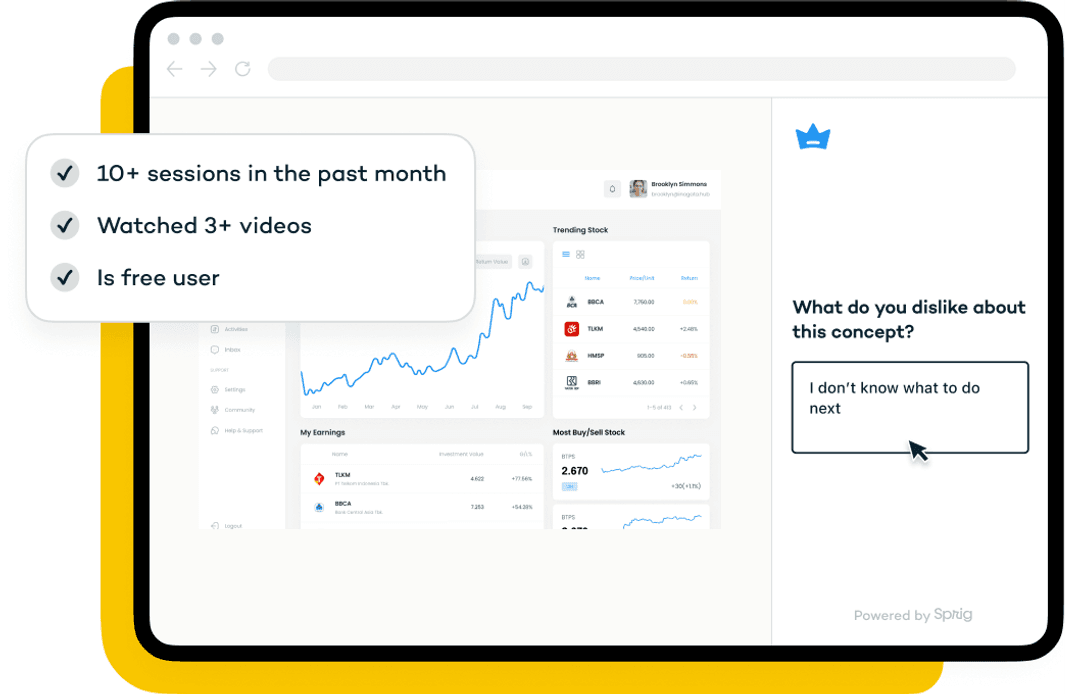 test new product experiences
Test concepts with your own users for insights you can trust
Conduct rapid unmoderated concept tests prior to launch to ensure your new user flow, feature, or messaging hits the mark.
How Sprig powers world-class experiences for leading digital products
Square uncovers friction in the onboarding flow by learning from users in real time

Sprig helped Square generate over 100 actionable insights across 5 product areas in its first 6 months.

Shift revamps the car browsing experience after learning from active buyers

Sprig helped Shift collect over 13K responses within 6 months, compared to the same number in 2 years with SurveyMonkey. Plus, all responses were from the correct, qualified user base.

Chipper Cash uncovers barriers to adoption for a new feature within days

Sprig helped the popular African FinTech app Chipper Cash identify lack of user knowledge as a key barrier to adoption, which fueled investment in awareness-focused marketing and the launch of a new education initiative.
Why research, product, and design teams love Sprig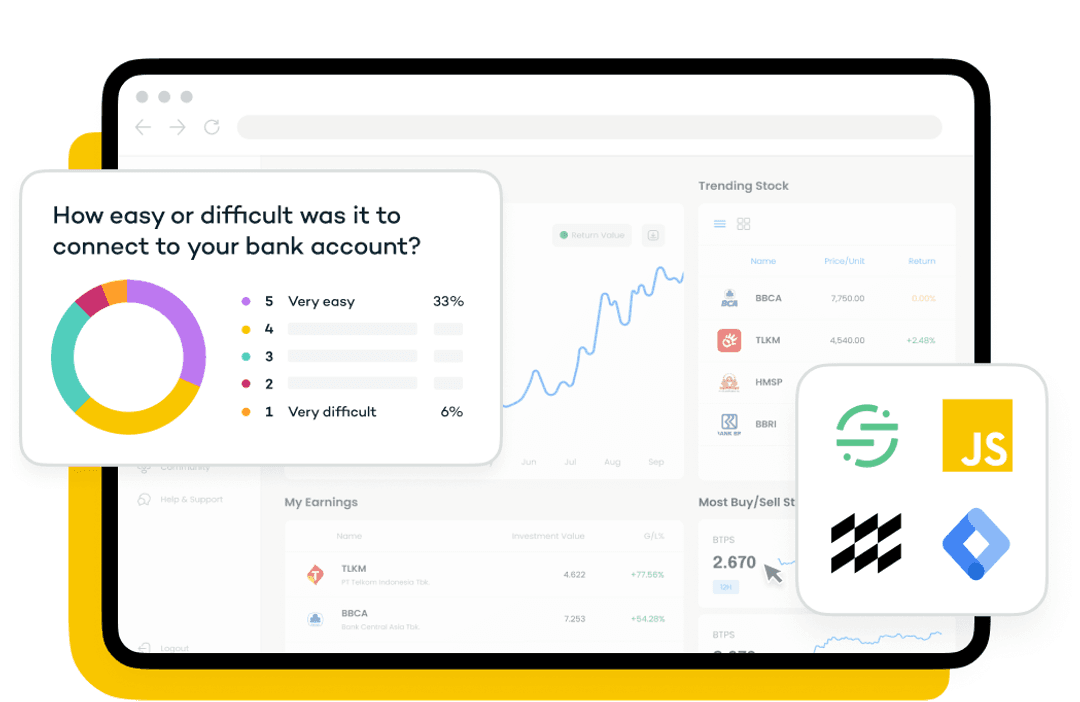 Easy to use from install to insight
After a simple integration, launch your first survey, quickly recruit participants to concept test, and start collecting insights.
Start quickly and learn continuously with a variety of low and no-code integrations
Easily customize the look and feel to match your brand standards
View results in real time as responses flow in
Get hyper-specific with advanced targeting
Event-based technology lets you target nearly any user for surveys or tests without bugging engineering for help with each study.
Contextual, action-based targeting aids in recall
Recruit ideal participants for more research
Bigger samples mean more confidence in data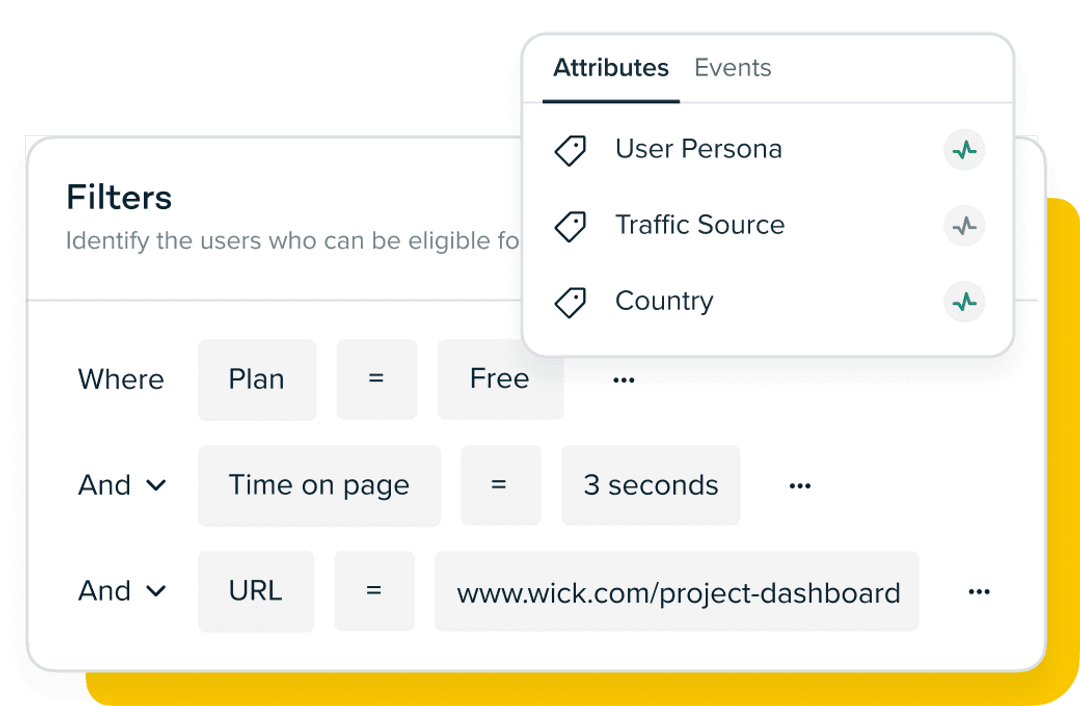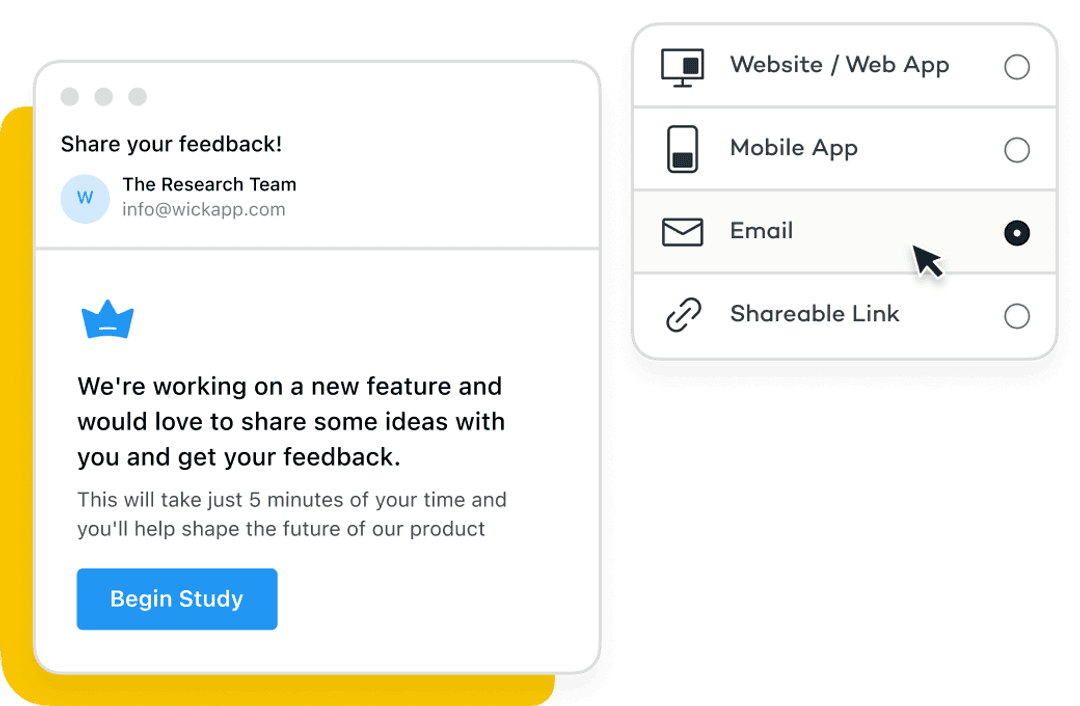 Multiple ways to test and learn
Capture insights from your own users across multiple methods and devices. Test concepts, conduct usability tests, or identify issues with onboarding or engagement—all within Sprig.
Multiple research methods including usability tests and surveys
Reach users across web, iOS, Android, sharable link, and email
View results for tests and surveys all in one place
Analysis done for you
Say goodbye to word clouds. Sprig's award-winning AI with a human in the loop saves you time by grouping responses into useful, usable themes.
Saves you hours of manual analysis
Themes are specific to your company and product
Results become more customized over time
How Sprig enables teams to work smarter, not harder
Get hyper-relevant feedback
Capture more specific and relevant insights by asking the right questions to the right users at the right time.
Reduce time to insight
Get to the insights that matter, faster, with efficient targeting and quick turnaround times for studies and tests.
More impact with less effort
Have more 'aha' moments, without the manual work you wish you could automate.
Share insights with the whole team
Spread customer-centricity across all teams with sharable dashboards and unlimited seats to Sprig.
With Sprig, we're now able to conduct research with users who are hard to access or when context is critical to understanding the user experience. We don't have any other tools that enable us to learn in this way.

Brandi Luedeman

Head of Research and Insights at Opendoor

Sprig makes it easy to obtain timely, relevant feedback from our users. The targeted surveys are delightful for users and we've gained incredibly valuable insights to guide our product development process.

Lillian Zuo

Group Product Manager at ClassPass

Sprig has been extremely useful in helping our research team provide highly relevant, in-the-moment insights to our product and marketing teams.

Jewel Seperson

Head of User Research at Square
Sprig helps user researchers and product teams build more user-centric products
Visibility into the invisible parts of the user journey

Unlike other research tools, Sprig helps you uncover valuable insights even in notoriously "invisible" moments throughout the customer journey, including signup, onboarding, engagement, churn, and more.