AI Analysis
Instead of wasting hours reading text responses, rewatching interviews, or wading through notes, Sprig's automated analysis reviews each response and delivers accurate, actionable themes in real-time, plus recommendations for next steps.
No manual analysis required
Combines AI and human oversight
Works for data sets of all sizes, from 10 to 10+ million
AI analyzes open-ended responses so you don't have to
Sprig's one-of-a-kind algorithm automatically reviews all of your open text and voice responses in real-time to identify relevant patterns (even without overlapping words or phrases) and deliver unique response themes for each study.
Receive recommended next steps to improve your customer experience
In addition to response themes, our AI evaluates dozens of different factors including frequency and sentiment to prioritize the areas that impact your users most and recommend action items.
User research experts review to ensure complete accuracy
To ensure the accuracy of themes and recommended actions, every open text and voice response is also reviewed by Sprig's in-house team of experienced user researchers.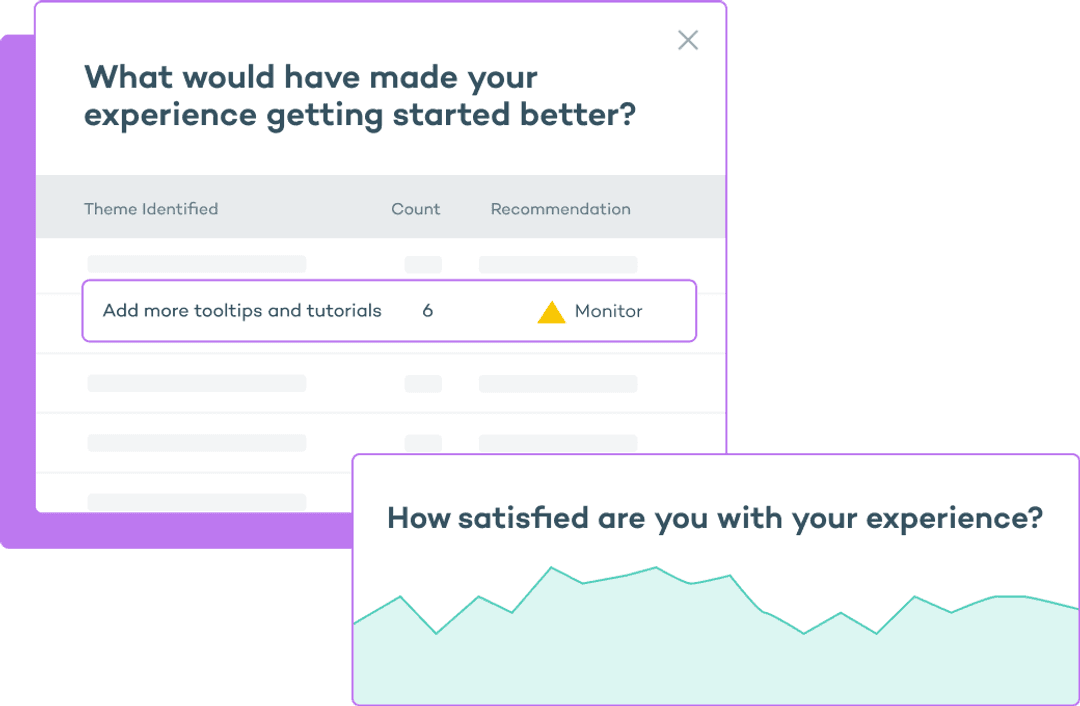 Get the answers you need in hours, not days
Results are accessible in your Sprig dashboard in real-time. Insights from the AI analysis and expert review are surfaced within hours and dynamically update as responses are collected and emerging trends solidify into themes.
To successfully identify themes, we have trained our AI models on billions of external data points and millions of text and voice responses. We have hundreds of models running on any given day, to ensure we are always providing the most accurate, actionable insights possible.

Kevin Mandich

PhD, VP of Data Science at Sprig
Unique benefits you can't get from traditional surveys
Precise targeting
Unlike traditional surveys, Sprig microsurveys can be targeted by specific behaviors, events, user groups, time parameters, and more.
Faster, more relevant results
Because our microsurveys are short and delivered within your product, you get faster, more relevant results every time.
Native-looking templates
No more clunky-looking surveys. Our microsurveys are sleek, modern and can be easily customized to match your brand.
How can Sprig help you today?