Noon Academy is a social, peer-based e-learning platform that provides a more interactive, collaborative approach to learning in grades 7 through 12 with a mission to radically change the way people learn. To do this, the Noon team focuses on creating a rich, social learning experience.
Noon's flagship e-learning platform does this by facilitating social engagement during classes. But the team wanted to create even more social features, so it launched peer-based study groups.
With this new feature, students have the opportunity to break out into study rooms and reiterate what they've learned live with other students, without the teacher present. Participation in these rooms, moderated by a host or lead student, can include speaking through a mic, high-fiving each other, asking questions, or reacting to what the host is presenting.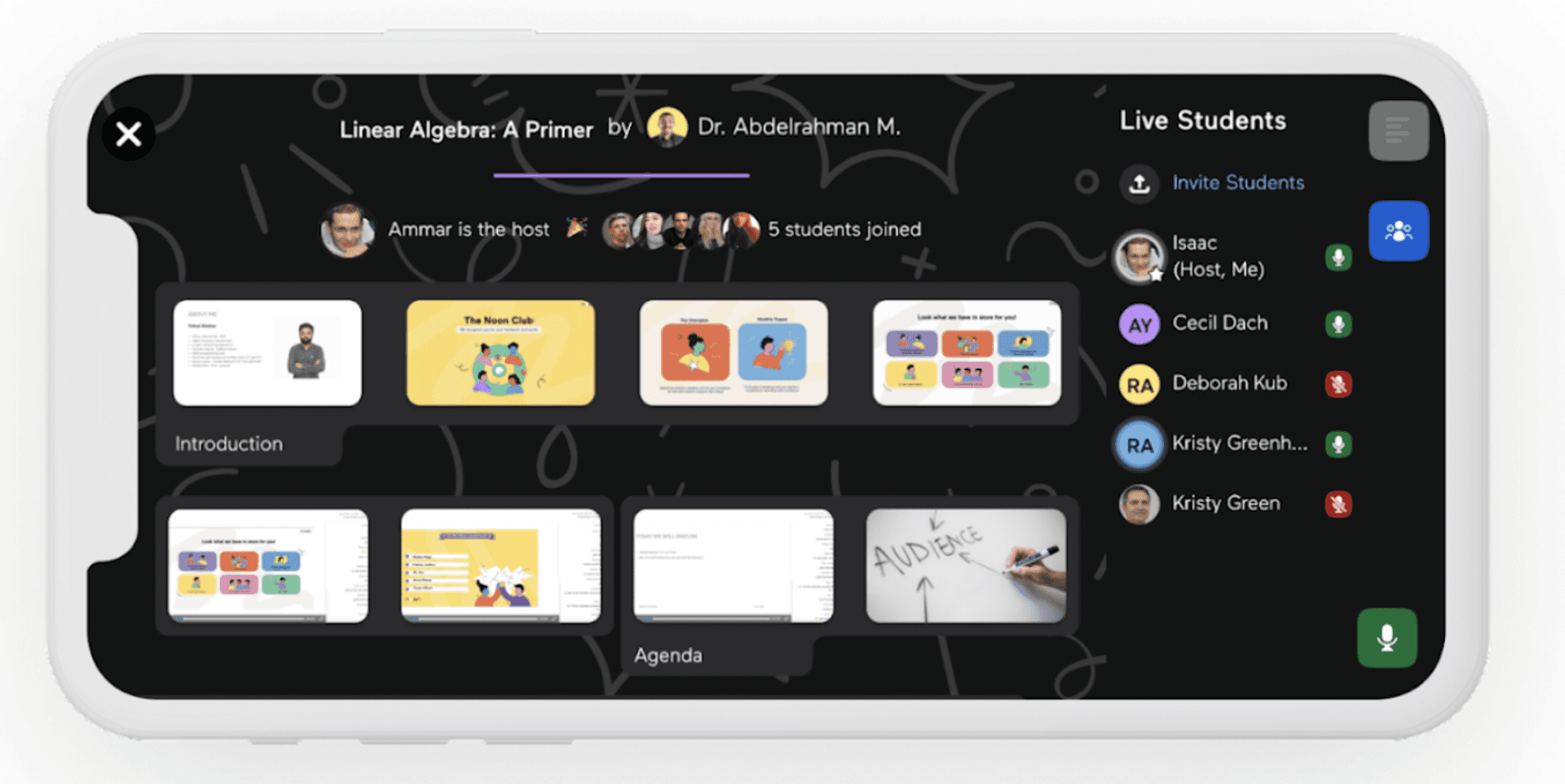 The Noon Academy team wanted to understand how these study groups were helping students and if students found them valuable. But working with students across 8 countries and languages on a mobile-first platform, Noon Academy faced an uphill battle in reaching students and researching their needs due to language inconsistency.
Garrett Groszko, Director of Design at Noon Academy, and Ale Argenio, formerly head of UX Research at Noon Academy, needed an easy and efficient way to receive user feedback, and target certain groups of students during specific interactions in order to uncover the obstacles to student participation and social interaction within the study groups. Increasing these numbers was critical to helping them achieve their mission of creating a social, collaborative e-learning program, and solidifying their differentiator in the e-learning marketplace to increase adoption and revenue.
That easy and efficient way was Sprig, and they used in-product surveys to understand how students were experiencing the groups. They wanted to understand if the student-led groups feature was furthering their mission to provide a collaborative environment to encourage deep social learning. Were students using it? If not, why not? How could these groups be more effective?

The 5 Steps Noon Academy Took to Increase Class Participation Through Student Feedback
#1 Noon Academy determined what they needed to research
Were students satisfied with the student-led class experience? This question was critical to Noon Academy's mission. If students weren't participating in these groups, they weren't getting the benefit from Noon that differentiates it from other e-learning platforms. Launching in-product surveys provided an easy, effective way to ask this question in a direct way.
#2 Targeted the right users
The in-product survey regarding feature satisfaction with the student-led class experience was sent to new users 10th-12th grade, leveraging Sprig's attributes feature. They were able to easily target these students because of both Sprig's targeting capabilities, as well as their own data organization.
Using Sprig's targeting was quick and easy for the team, especially in comparison to their previous method of asking questions after classes. Noon's original homegrown solution was hacked together using various tools and was rigid–they could only deploy the same survey at the end of a class to the entire population of students. The flexibility and targeting of Sprig's solution increased efficiency for the team immediately and enabled a wider range of research to be conducted quickly.

"If your engineering team has done a great job of organizing the attributes and events that you have in the app, Sprig will see them, and then you can say, 'Okay, I will trigger the survey with that specific event, in that moment.'"

Ale Argenio

Formerly head of UX Research at Noon Academy
#3 Triggered surveys at the right time
One of the top concerns when launching in-product surveys is that you'll disrupt the user experience and they won't complete a flow as intended…yet you also want to ask users questions about their experience when they're in-the-moment, completing a task that's relevant to the question. In this case, Noon Academy triggered this survey as the user exited the student led group. The Noon team didn't disrupt the in-app experience, but also captured students while the peer learning experience was fresh in their mind, reducing recall bias.
#4 Asked the right questions
Noon Academy used a question similar to Sprig's "Gauge Product Feature Satisfaction" template to measure satisfaction. The research and design team asked if they were satisfied with the class session experience on a scale of one to five. It's a super simple, easy to answer question.
Then, they followed up with an open-text question for those who gave the app a poor rating.
#5 Received responses quickly and saw themes emerge
Because this research was conducted in-app, the Noon Academy team received quick feedback. The students were taking these surveys in real-time, and the team was analyzing them almost instantaneously. This is critical when you're iterating on a product that isn't performing to goal.
They first looked at the overall satisfaction, where they saw that there were differences from country to country, specifically this example where students in Pakistan were significantly less satisfied than Egypt. 36% cited they were 'Not at all satisfied.'

Then, they dug deeper with the open text responses. With Sprig's AI analysis, which groups answers into themes, they were able to determine recurring issues and understand the problems users in Pakistan were facing.

"Everybody's probably familiar with, 'I've got a lot of sticky notes, I've got a lot of responses, then I'm going to group everything, and I'm going to find themes.' Sprig totally helps with that. It's absolutely amazing for us to find themes that we might not have seen ourselves. It's super helpful."




Garrett Groszko

Director of Design at Noon Academy
Two themes emerged: bugs and needing guidance within the study group experience.

"Solving bugs" was straightforward — they quickly worked with the engineering team to get the problems fixed.

"Help guide students" was something the design team could impact, so they immediately started working on solutions that would provide more direction to students as they attempted to engage with the peer-based groups.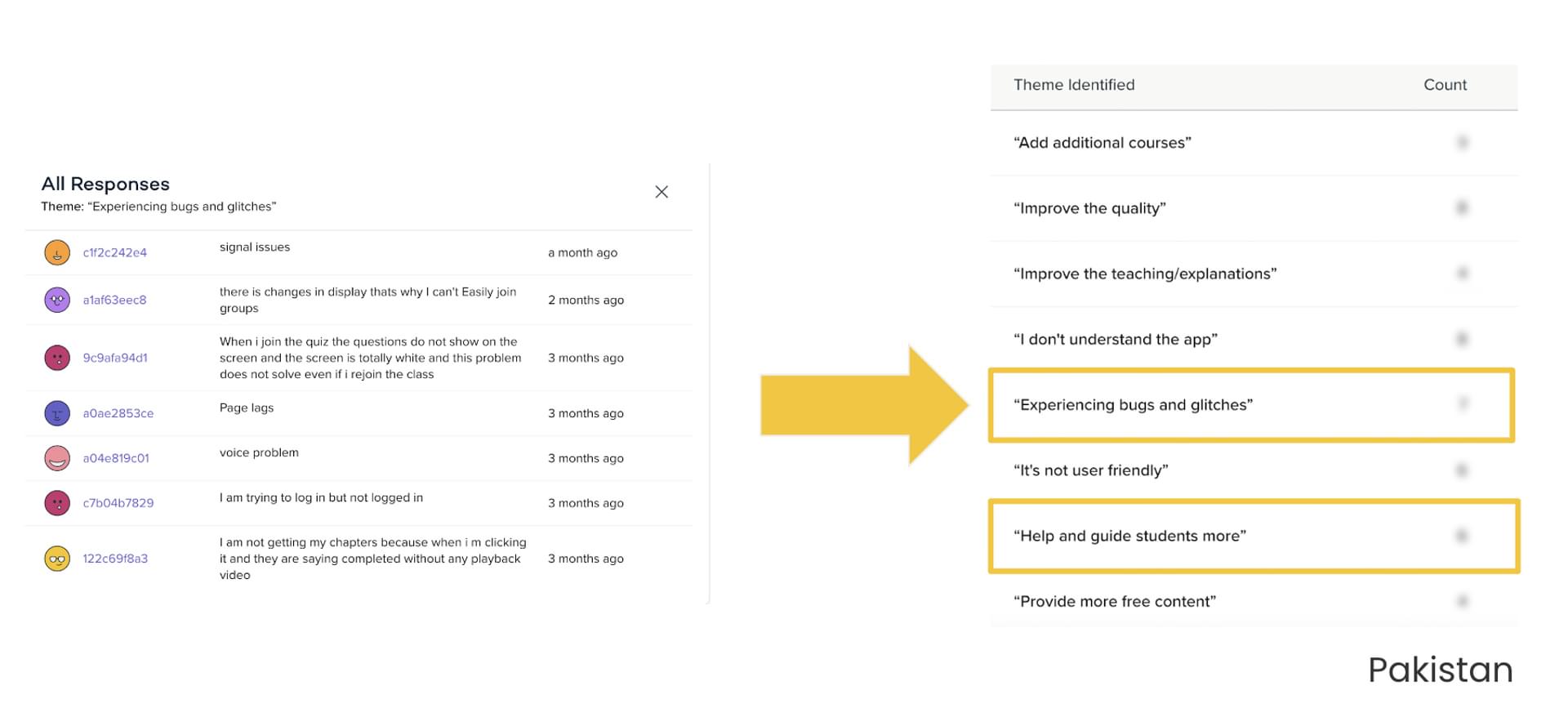 The Results: A 46% increase in feature engagement
Using the research from the feature satisfaction and open text questions, Garrett's design team made feature updates that included adding helpers throughout the product.
Noon Academy's focus is student-led, collaborative learning, and, to get the most from that, the students need confidence to put themselves out there and work collaboratively. The features the team rolled out based on the new research:
Provided guidance to help students participate in groups

Provided prompts to nudge students to say hi and interact

Gave students the ability to get more information to confidently understand where they are in the app
The updates made in the app made an impact for Noon Academy and the team saw their core metrics used to measure engagement increase almost immediately, including:

46% increase in social time, with students actually in a room together and interacting

74% increase in participation, including talking in class and with each other more

192% increase in social interfacing, including turning on their mic and asking questions
This interaction and collaborative learning process is the entire backbone of what Noon Academy set out to do, so raising these participation and social numbers was critical. They found adding the helpers and guides worked, and this was all thanks to the theme that emerged during their in-product research.

Other Ways Noon Academy is Using Sprig
In addition to increasing feature engagement, Noon Academy is currently running Sprig surveys to:
Understand multiple region exit experiences. In-product surveys at key touch-points along the student journey are providing a global lens to the Noon Academy experience across multiple countries and markets. The surveys are driving a better understanding of regional needs and guiding relevant changes in those markets.

Continuously monitor the Noon Plus subscription experience and keep growth teams up-to-date on its performance across regions.
Find better market fit globally. Noon Academy is utilizing in-product surveys across multiple regions to better understand and address the needs of students in a way that fits with Noon's strategy and grows its global product experience.
How You Can Replicate Noon Academy's Success
Target the right users based on specific actions and characteristics: Not every question is right for every user. In Noon Academy's case, they wanted to target new users at a specific grade level, as they were leaving the app. Because the company already tracked this data in their app, setting up Sprig to send surveys based on this data was almost instantaneous.

Capture in-the-moment sentiment for the most authentic feedback: You want to understand what users are thinking as they engage with your app, while their actions are fresh in their mind. In-product surveys allow you to tap into in-the-moment thoughts and feedback.

Leverage in-product surveys to ask open-ended follow up questions — and use AI to group themes together: Combing through responses is time consuming and unrealistic when you're looking for insights at scale. By asking open-text questions in-app and then using Sprig's AI-analysis to group themes together, you're able to get qualitative insights at scale.