Everything a Modern Product Manager Needs to be Successful
Product managers are some of the busiest people in every organization. They have big jobs, aggressive goals, and are some of the most ambitious people you can find.
They spend their days overseeing the development and lifecycle of products and features, from ideation to launch and through post-launch iterations, optimizations, and journey back to the beginning of product development. The work is literally never done.
That's the average product manager, but the BEST product managers are masters at influencing all the right team members. They collaborate with cross-functional teams across research, design, and engineering to identify customer needs, set product strategy and vision, prioritize features, and make data-driven decisions to bring transformative products to market.
To manage product development across the lifecycle, modern product teams rely on an extensive tech stack that can include product analytics and feedback tools, tools for whiteboarding and roadmapping, automations, CDPs, and more.
And, to build the best products, teams need the best tech stack in place. There are hundreds, if not thousands of options available, but the modern product manager views their tech stack as a partner enabling swift, efficient integrations, seamless management of flows and feedback, and actionable use of insights.

In this post, we'll look at:

What is a Product Tech Stack?
A product tech stack includes the SaaS tools, apps, and technology that product managers and their collaborating team members use to oversee product development from day one through launch (and back again). This includes tools for feedback, roadmap prioritization and strategy, managing flows, and more. Modern product teams maximize their technology stack to get as much value as possible. As we know data is the oil of this century and the modern product tech stack of 2023 pulls actionable insights out of the overwhelming amounts of data at scale.

These tools have built-in integrations with other growth-focused tools that allow for the transfer of data to the right places so that PMs can take a user-informed approach to seamless management. Ultimately, they are purpose-built to help product managers do their job more efficiently (and with more ease!).
Our Modern Product Tech Stack was developed based on interviews with our top customers to find product success. With this product tech stack in place, Product Managers are covered from monitoring user feedback through whiteboarding to roadmapping and all the way to experimentation.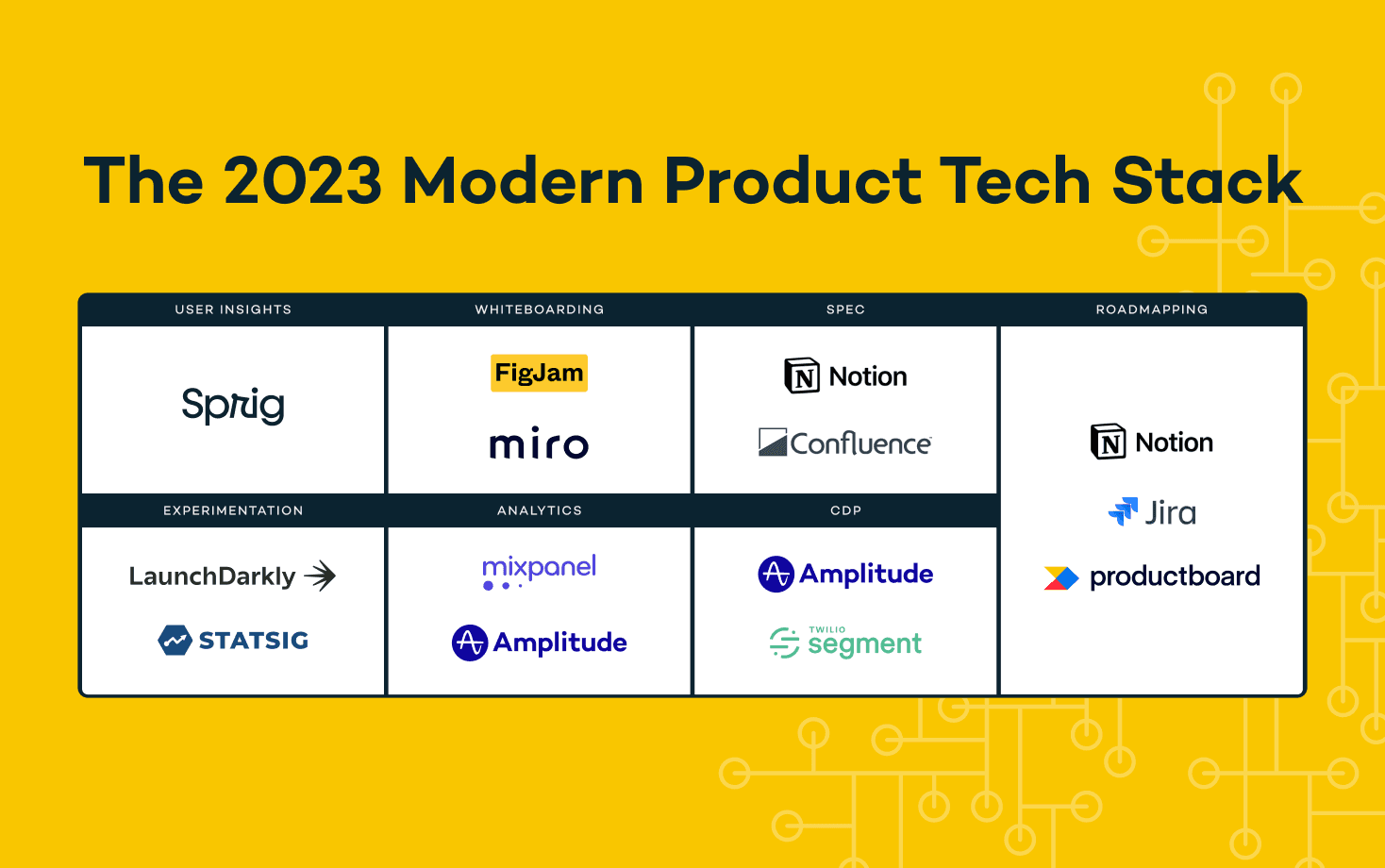 Best Tools for Analytics
Analytics tools help product managers track and analyze usage and behavioral data about their products, customers, and market. This data helps them make informed decisions about product development, pricing, marketing, and user experience. PMs with modern analytics products in their toolkit can seamlessly track website traffic, user behavior, conversion rates, app usage, performance, user engagement, and customer interactions, and turn all of that data into actionable insights.
Having the right analytics tool in the Modern Product Tech Stack will help measure the success of their product, identify areas of improvement, and make data-driven decisions to optimize products and features.
Mixpanel
Mixpanel helps product managers use analytics from behavioral data to convert, engage, and retain more users through user engagement metrics, tracking actions users take in the product, funnel analysis of key user journeys, cohort analysis of behavior patterns, A/B testing of features and their impact on user behaviors, and retention analysis. They can also build interactive reports within Mixpanel to bring data to life, including funnel reports, retention reports, and insights reports.
Amplitude
Product managers look to Amplitude for a web and analytics platform that allows them to understand how users are interacting with products and features. Using the insights available within the platform, product managers can track user behavior and identify key trends, usage patterns, and user journeys. They can segment their user base and analyze behavior based on different criteria like demographics, geographics, or device type. Amplitude can also be used for funnel analysis, user retention, and A/B testing. These actionable insights lead to data-driven decisions about product features and user experience.

Best Tools for User Insights
Feedback is critical to building successful user-informed products. Product managers need tools in their tech stack for collecting the right user insights at the right time in the product development lifecycle via email, in-app surveys, support tickets, and social media. They also need tools to be able to categorize, prioritize, and understand those insights. They need to be able to share that feedback with stakeholders including design and engineering, and they need a seamless way to implement that feedback to inform product decisions and prioritize features based on customer demand. Lastly, they need to be able to track changes based on customer feedback and measure the impact on customer satisfaction and success.
Sprig
Of course, we have to give ourselves a shoutout here, and our customers at Dropbox, Loom, Adobe, Opendoor, Robinhood, and others would agree. Sprig offers both In-Product Surveys and Concept and Usability Tests, giving product managers the ability to go beyond product analytics and leverage user insights to build better products. Product managers can use Sprig to survey specific groups of users in-product to capture their real-time insights, as well as test concepts, designs, and prototypes with both their own users or a top-rated external panel.
With Sprig's advanced AI analysis, product managers can capture qualitative insights quickly and at scale, as Sprig's AI summarizes text, voice, and video responses into actionable themes. Plus, with Sprig's customizable dashboards, it's easy to analyze real-time insights in one place and share them with all relevant stakeholders.

Best Tools for Whiteboarding
Whiteboarding is what product managers use to brainstorm ideas, sketch out concepts, and visualize the user flow of their product. They use it for cross-functional collaboration with other stakeholders, such as designers, developers, and stakeholders. They use it to create prototypes, mockups, and wireframes of their product ideas to help stakeholders visualize the product and provide feedback. It's a key piece of creating presentations and visual aids to communicate their ideas and product vision to stakeholders. And, now, they use cloud-based whiteboarding tools to collaborate with remote teams and stakeholders.
FigJam
FigJam, i.e. Figma's whiteboarding product, is a favorite of product managers, designers, and researchers alike. It's a collaborative online whiteboard that lets teams ideate and brainstorm in real-time, all at once. It's great for visualizing concepts of ideas, product features, and user flows to help stakeholders understand the product vision. Product managers can use FigJam to create wireframes, mockups, and prototypes of their product ideas to test and validate their concepts. Plus, it's so easy to use that even cross-functional teams can easily all jump in and get started.
Miro
Miro is a remote whiteboarding tool providing teams a way to connect, create, and collaborate. It has options for brainstorming, diagramming, and mapping, and it's used across teams for whiteboarding to visually organize ideas for their product. Teams can use sticky notes, images, mind maps, videos, flow charts, and drawing capabilities to work across teams. For product managers, it's particularly useful for creating product roadmaps, looking at customer needs with journey maps, and building wireframes and user flows.
Best Tools for Roadmapping
Roadmapping tools help product managers prioritize their product strategy and features based on customer feedback, market trends, and product strategy. These tools help them outline their vision, goals, and priorities, and communicate these to stakeholders including designers, engineers, and researchers. Roadmapping tools can also be used to manage timelines, set deadlines, and track the progress of their product roadmap, plus make adjustments as needed.
Lastly, roadmapping tools can be used to make forecasts and predict future trends, enabling product teams to stay ahead of the competition.
Jira Product Discovery
Jira is a tool used by agile product teams to move fast, stay aligned, and build better products. There are templates available within Jira to help product managers get a head start on planning and tracking, but then they can leverage its customization tools to create product management flows that work best for their team and the specific needs of each product and feature launch. Workflows and boards help product managers keep track of user stories, offering sprints to plan and track development progress, labels to categorize and track the status of features, and reports to visualize and communicate progress to stakeholders.
Notion
Notion is a favorite across the tech world and beyond, with capabilities that include to-do lists, project management, and more. Product managers can use it as soon as they kick off a project for to-do lists and product management, and product managers can leverage intuitive tables to outline and organize information, boards to create and organize tasks as cards, templates to quickly set up a roadmap structure, and calendars to add timelines. It's a simple-to-use, collaborative tool that keeps all pieces of product management in one central home base.
Productboard
Productboard's goal is to get better products to market — faster. They help product teams understand what customers need, prioritize what to build next, and align everyone around the roadmap. With a features library to capture, prioritize, and categorize feature ideas, a roadmap view to visualize and plan the product roadmap, and a central place to track and analyze customer feedback, Productboard is an all-in-one software for start-to-finish product management. Plus, it has integrations with other tools that make creating and collaborating throughout the roadmap process seamless.

Best Tools for Product Specifications
With product specifications, product managers are required to write detailed descriptions of the features, functions, and requirements of a product. This is the blueprint for product development and provides a clear understanding of what the final product should look like and how it should work. Product specifications will include product features and functionality, technical specifications, user experience and interface design specifications, performance criteria, quality and reliability requirements, regulatory requirements, as well as support and maintenance requirements. This serves as the entire foundation for a successful product development process.
Confluence
Product Managers use Confluence is a collaboration and management tool that can be used to create and manage product specifications. Confluence's pages and templates, with their customizable labels and categories, are perfect for product managers looking for a system to create and organize detailed specifications, while also allowing cross-functional teams to collaborate on, contribute to, and review those specs. They have access to over 3,000 integrations making it easy to organize the entire product management process, including tracking progress, within Confluence while having product specs easily accessible at your fingertips.
Notion
Notion makes a second appearance on our Modern Product Tech Stack for its value as a product spec tool — it's what we use here at Sprig. Because of its customization options, ability to easily organize and manage data and projects, and its collaborative features, it's a helpful tool for product managers as they oversee a new product or feature from ideation through launch.
Best Customer Data Platforms (CDPs)
Customer Data Platforms (CDPs) are used by product managers to gather, store, and manage user event data from various sources to create comprehensive customer views. This data helps them analyze customer behavior and preferences, determine which features and updates could be most beneficial for customers, as well as determine which customers should be targeted for feedback. Without a reliable and clean CDP, it's nearly impossible for product managers to create successful products, and CDP integrations with other tools are essential.
Segment
Segment allows product teams to make data-driven decisions across the product development lifecycle. It collects user event data from mobile, web, and warehouse sources using a simple API, and integrates easily with data analytics tools.
Amplitude
With Amplitude, product teams can tap into user event data and connect their entire data ecosystem across apps, servers, tools, and warehouses. This event data can be used to build audience lists and customer profiles, which can then be leveraged across integrations, targeting specific groups for feedback and more.
Best Tools for Experimentation
The best product managers know that the process of creating great products is never done — there are constant and continual ways to optimize and improve features and updates. But this requires having growth-focused products for experimentation and testing hypotheses on how product managers can improve the users' experience and product. With these experimentation tools, product managers can look at two versions of a design, webpage, or app to determine which performs better and whether a different solution is the answer.
LaunchDarkly
LaunchDarkly offers experimentation that is integrated with the development workflow, giving product managers the ability to run experiments in any layer of the stack: front-end, back-end, or mobile. They leverage an easy-to-use system that allows product managers — or any team — to run experiments, but with guardrails in place (so no one can take the software down by accident!). Plus, product managers can get the answers quickly, and roll out the winning feature in just one click by leveraging feature flags and experiment integrations.
Statsig
Statsig gives product managers the ability to conduct experiments in real time and observe how products are performing. Product teams can integrate feature flags, A/B tests, and experiments to make quick decisions, thanks to a powerful stat engine. Statsig's focus on speed and statistical significance translates into an easy-to-use dashboard that gives product managers fast access to experiment results, metrics, numbers, and "Product Observability", which is a full view of how the features and experiments are actually impacting business metrics (read: the numbers stakeholders care about).

How to Get Buy-In and Support for the Modern Product Tech Stack
To get buy-in and support for investing in the tools that make up the modern product tech stack, it's important to tie the benefit of the tool to the bottom line. The bottom line being revenue, which comes as a result of empowering product managers to do their job more efficiently, build better products, and increase users. In addition, they offer:

Efficient ways to get and use user feedback in real time

Ability to collaboratively whiteboard with cross-functional and remote teams

Central, collaborative solutions for roadmapping and specs

Clean, central warehouse for user event data

Ease of analytics to make data-driven decisions

Efficiency through cross-product integrations
These efficiencies and abilities directly impact the bottom line and provide a data-driven case to stakeholders and decision-makers for investing in the Modern Product Tech Stack.